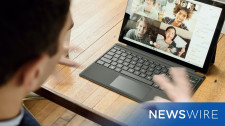 NEW YORK, April 6, 2022 (Newswire.com) - Earned media mentions. Website traffic. Brand awareness. Improved search engine optimization (SEO) performance. Increased sales.
These are some of the positive outcomes Newswire's press release distribution services are generating for B2B companies.
But, for press releases to be powerful, a company needs to identify and understand who makes up its target audience first.
What are their interests? Pain points? Preferred methods of communication?
The answers to these questions and more can help companies of all sizes and industries gain a better understanding of the people that matter most to their business.
"Think of a company's target audience as its North Star," said Charlie Terenzio, CMO and SVP of Media and Marketing Communications at Newswire. "Developing a deep understanding of who a brand is trying to reach can guide content creation and lead to better results and ultimately improve their bottom line."
Since 2004, Newswire has been empowering the Earned Media Advantage through its industry-leading press release distribution services to help its clients create newsworthy stories, launch targeted campaigns, provide reports on overall performance, and continually refine messaging and strategies to meet and exceed their marketing goals.
For B2B companies, in particular, the brand-building benefits of consistent and strategic press release distribution include but aren't limited to:
Trust - Staying in front of the consumer and the media with newsworthy press releases is an effective way to build brand recognition and create a level of trust that promotes new business and earned media opportunities.
Thought leadership - To build on the former, the more value a brand provides, the better the chances are of securing opportunities to position a company as a thought leader in its industry. Thought leadership pieces are excellent ways to build brand awareness.
Targeting - A major benefit of press release distribution is the ability to cast a wider net to reach relevant media publications. Targeted distribution lists, such as the ones that Newswire offers, help companies distribute the right message to the right audience at the right time.
"Press releases are an excellent and effective way for B2B companies to connect with and deliver newsworthy content directly to their target audiences," added Terenzio.
To learn more about how Newswire's integrated solutions are helping small and midsize businesses craft newsworthy content, deliver strategic media pitches, earn media mentions, grow their audience, expand their reach, and implement an effective go-to-market strategy, visit Newswire.com today.
About Newswire
Newswire delivers press releases and multimedia distribution software and services (SaaS) that empower the Earned Media Advantage: greater brand awareness, increased traffic, greater return on media and marketing communications spend, and the competitive edge. With over a decade of experience, Newswire continues to provide its customers with the ability to deliver the right message to the right audience at the right time through the right medium.
For more information, visit http://www.newswire.com.
Contact Information:
Charlie Terenzio
CMO and SVP of Media and Marketing Communications
Newswire
Office: 813-480-3766
Email: charlie@newswire.com
Source: Newswire
Share: