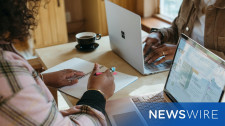 NEW YORK, March 16, 2022 (Newswire.com) - Creating and publishing thought leadership content is a powerful way for business professionals and brands to showcase their experience, expertise, and knowledge of a specific topic. By sharing valuable insights and information, brands are able to build and strengthen their bond with their target audience.
As an industry leader in press release distribution services, Newswire encourages and works alongside its clients to develop and distribute thought leadership content on a consistent basis.
"Thought leadership content helps brands build credibility, nurture trust, and ultimately strengthen their relationships with their target audience," said Charlie Terenzio, CMO and SVP of Media and Marketing Communications at Newswire. "The benefits of thought leadership pieces are plentiful, and that's why we place such an emphasis on helping our clients create this type of content to expand their reach and position themselves as experts in their respective industry."
Some of the brand-building benefits of thought leadership content include:
Awareness - When a brand creates and distributes content on a consistent basis, it betters its chances of connecting with its target audience, positioning itself as an expert and gaining the brand awareness necessary to stand out from the competition.
Credibility - Sharing valuable information that highlights a brand's expertise and experience is an effective way to build credibility and strengthen the trust between consumers and the brand. Thought leadership content, when done correctly, can increase the consumers' trust in a brand's ability to deliver products/services that solve their problems.
Earned media opportunities - Journalists want to work with experts who can provide value to their audience. That's why it's important for businesses to consistently create thought leadership content, promote it via press releases and share the updates on their social channels to maximize exposure and showcase their expertise and attract earned media mentions.
To learn more about how Newswire's press release distribution services are helping small and midsize businesses earn media mentions, grow their audience, expand their reach, and implement an effective go-to-market strategy, visit Newswire.com today.
About Newswire
Newswire delivers press releases and multimedia distribution software and services (SaaS) that empower the Earned Media Advantage: greater brand awareness, increased traffic, greater return on media and marketing communications spend, and the competitive edge. With over a decade of experience, Newswire continues to provide its customers with the ability to deliver the right message to the right audience at the right time through the right medium.
For more information, visit http://www.newswire.com.
Contact Information:
Charlie Terenzio
CMO and SVP of Media and Marketing Communications
Newswire
Office: 813-480-3766
Email: charlie@newswire.com
Source: Newswire
Share: