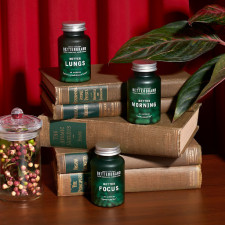 With the belief that "Everyone deserves better," Betterbrand has designed products that are backed by data and have been studied extensively for safety and function.
NEW YORK, November 1, 2021 (Newswire.com) - It's reported the size of the global dietary supplement market will reach $151.9 billion in 2021. With an influx of growth and no signs of slowing down, companies in this industry have to find ways to capture and keep the attention of their target audience.
Betterbrand, a nutraceutical company that provides science-backed supplements with a focus on upper respiratory and lung health, recently joined Newswire's Media Advantage Plan (MAP) to do just that. 
This innovative Texas-based company that's committed to science and transparency has an advisory board of medical doctors who work together to help people be healthier and more knowledgeable about health in general. 
Through the MAP, Newswire, an industry leader in press release distribution services, will act as an extension of Betterbrand's team. By leveraging its experience, enriched distribution network, and robust SaaS platform, Newswire will create and implement a strategy to better tell the company's story, build brand awareness, increase website traffic, and attract new leads through earned media opportunities and SEO strategies.
"Our company is on a mission to help others live better through science," said Dr. Chris Jackson, co-founder and Chief Executive Officer of Betterbrand. "Transparency is at the core of everything we do, and through our partnership with Newswire, we're looking forward to consistently and effectively communicating our story and empowering people to achieve the quality of life they deserve."
Betterbrand was co-founded in 2019 by Jackson and a friend he met while collaborating on a large research project at the University of Texas. Since then, the pair have developed lung health supplements and other products that are backed by data, studied extensively for safety and function, and clearly present their ingredients and the scientific reasoning on why they were chosen.
"Betterbrand's key differentiators from other supplements on the market are going to be the driving force behind our efforts and how we communicate their story and mission on a consistent basis," said Charlie Terenzio, CMO and SVP of Media and Marketing Communications at Newswire. "The strategies we develop together will put Betterbrand in a position to become the leader in the lung health industry and top provider of better quality supplements."
To learn more about how Newswire's integrated solutions are helping companies like Betterbrand grow their audience, expand their reach, and implement an effective go-to-market strategy, visit Newswire.com today.
About Betterbrand
Founded in 2019, Betterbrand aims for "better living through science" and designs data-backed products made from natural ingredients. Each product developed is reviewed by medical doctors in their internal Medical Advisory Committee and tested by Eurofins Scientific. Betterbrand offers premium products at affordable prices. For more information, please visit www.betterbrandhealth.com. You may also reach Betterbrand via wecare@betterbrandhealth.com and toll-free at 877-851-8979.
About Newswire
Newswire delivers its best-in-class technology as a service to provide high-impact press release distribution empowering the Media Advantage: greater brand awareness through earned media, increased traffic, greater search engine recognition, more leads, and increased sales.
Newswire is the only one in the industry that provides the Media Advantage Plan "MAP" that provides press release campaign automation that delivers press releases, media outreach and targeted commercial marketing to provide customers the going-to-market advantage required to compete for the mindshare and market share needed to accelerate sales. The "MAP" provides Newswire experts that customize a media and marketing communications plan and platform that ensures timely campaign production, and in a cost-effective manner that produces more value.
To learn more about press release distribution or the Media Advantage Plan, visit Newswire.com and check out why our customers have named us #1 for Customer Satisfaction in our industry for four years in a row.
For more information, visit http://www.newswire.com.
Contact Information:
Charlie Terenzio
CMO and SVP of Media and Marketing Communications
Newswire
Office: 813-480-3766
Source: Newswire
Share: