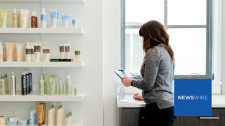 Consistent and strategic press release distribution can help small businesses make a name for themselves in their industry and improve the consumers' overall perception of their brand.
NEW YORK, August 9, 2021 (Newswire.com) - The public's perception of a brand is shaped by what they know and hear about it. Negative news stories can have adverse effects, while positive coverage can improve the public's sentiment and willingness to do business with a company. Newswire, an industry leader in press release distribution, helps small businesses create compelling stories to establish a positive brand image. 
According to a 2019 Edelman study, 81% of consumers said that they need to be able to trust a brand to buy from them. 
Brand image, trust, and credibility are all built through the customers' experiences and are shaped by the content a business creates. 
"Press release distribution gives businesses the platform to share newsworthy stories with their target audience," said Charlie Terenzio, CMO and SVP of Media and Marketing Communications at Newswire. "From product launches to employee promotions, community involvement, and more, press releases can amplify these stories to show and not tell consumers why they should do business with a company."
Small businesses that are part of Newswire's Media and Marketing Guided Tour program have access to the company's robust SaaS technology, as well as the expertise of its team, to pinpoint newsworthy topics, craft compelling content, leverage strategic distribution, and much more to strengthen brand identity, increase brand awareness, and drive more engagement with their target audience. 
"Creating and nurturing a positive, long-lasting impression can influence the consumers' perception of a business," Terenzio noted. "Press releases can help small businesses distribute the right message to the right audience at the right time and create a positive experience for the consumer." 
Visit Newswire.com today and learn more about how Newswire's integrated solutions are helping organizations grow their audience, expand their reach, and implement an effective go-to-market strategy.
About Newswire
Newswire delivers press releases and multimedia distribution software and services (SaaS) that empower the Earned Media Advantage: greater brand awareness, increased traffic, greater return on media and marketing communications spend, and the competitive edge. With over a decade of experience, Newswire continues to provide its customers with the ability to deliver the right message to the right audience at the right time through the right medium.
For more information, visit http://www.newswire.com.
Contact Information:
Charlie Terenzio
CMO and SVP of Media and Marketing Communications 
Newswire
Office: 813-480-3766
Email: charlie@newswire.com
Source: Newswire
Share: