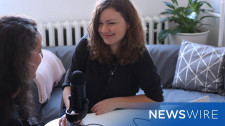 NEW YORK, April 21, 2022 (Newswire.com) - It's reported that journalists receive between 50 and 500 pitches per week.
That's a lot of information to consume. And, with an influx of messages landing in their email inboxes and a barrage of social media direct messages, it's easy for journalists to miss a pitch.
This constant flood of information makes it difficult for brands to break through the noise and stand out.
Though it can be challenging to build a rapport with a journalist, it's not impossible. In its latest Smart Start educational resource, Newswire, an industry leader in press release distribution, covers the topic of building strong relationships with journalists.
"Journalists are people too, and at Newswire, we respect that and use authentic relationship-building measures to help craft quality pitches that turn our clients owned media into earned media," said Charlie Terenzio, CMO and SVP of Media and Marketing Communications at Newswire.
In this Smart Start, Newswire likens journalists to bouncers at a nightclub who decide who gets in and who doesn't. This analogy is meant to highlight the importance of building and nurturing relationships with journalists to help brands improve the likelihood of earning valuable media coverage.
Additionally, this Smart Start covers a number of topics including:
What is earned media?
Why should brands develop relationships with journalists?
How can a company build a strong relationship with the media?
"This resource is a playbook for developing and nurturing relationships with journalists in the media publications you've deemed valuable for your brand," added Terenzio. "The tips we share are derived from our own experiences here at Newswire and can help companies of all sizes and industries make strong connections with the media."
Download the 4 Ways to Build Strong Relationships with Journalists Smart Start.
About Newswire
Newswire is a technology company that delivers press release distribution and press release campaigns by leveraging earned media outreach, SEO traffic and email marketing through campaign automation to help businesses land impactful media coverage, drive website traffic, generate leads and grow brand awareness. Through its industry-leading technology and its commitment to customer satisfaction, Newswire provides true value for businesses at a fraction of the cost of other solutions.
To learn more about press release distribution or the Media Advantage Plan, visit Newswire.com or check out why our customers have named us #1 for Customer Satisfaction in our industry for four years in a row.
Contact Information:
Charlie Terenzio
CMO and SVP of Media and Marketing Communications
Newswire
Office: 813-480-3766
Email: charlie@newswire.com
Source: Newswire
Share: