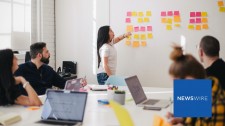 Newswire's Market Builder is a perfect fit for business services firms looking to take advantage of a market that experts believe is set for a major comeback heading into the new year.
NEW YORK, September 9, 2020 (Newswire.com) - According to industry experts and financial analysts, various sub-industries in the business services space have experienced upward trajectories after slumping through the first few months of the COVID-19 pandemic.
With emerging success stories making headlines in financial outlets and national publications, CMOs and C-suite executives are taking notice of the major role that the modern digital media industry has played in the financial success of some of the industry's leaders. Companies looking to capture more media attention can leverage the influential nature of Newswire's Earned Media Advantage Guided Tour Market Builder to increase market presence and connect with target audiences.
"Agencies dedicated to human resources and information technology have become crucial assets to executives who have recognized the importance of optimizing workflows through strategic outsourcing," said Charlie Terenzio, Newswire's VP of Earned Media Advantage Business. "As a result, we have begun to see success stories for business services companies after a period of uncertainty in the second quarter. Now more than ever, these firms have key opportunities to capitalize on their successes by engaging with industry media."
Emily Wilson of SAP SuccessFactors recently discussed the ever-expanding responsibilities and priorities of HR firms amid the ongoing health crisis. According to Wilson, the short-term impact of using a dedicated HR service can be directly beneficial to long-term profit margins. As the value of HR firms increases in the eyes of domestic and international agencies, HR industry leaders can utilize Newswire's platform to connect with relevant audiences through consistent content campaigns.
Newswire's Earned Media Advantage Guided Tour Market Builder has already yielded a multitude of earned media mentions for innovative leaders in the business services industry. Examples of such coverage include mentions and feature stories in outlets such as Forbes, Business Insider, CIO Dive, and Digiday.
"The program utilizes a high-tech, high-touch service that has resulted in valuable media coverage over time," said Anthony Santiago, Newswire's VP of Marketing. "It is this combined approach that has allowed us to help our customers increase their brand awareness and overall online presence. We are ecstatic to hear stories from customers receiving increased website traffic after a successful campaign, so we build upon that success whenever possible." 
Newswire's Earned Media Advantage Guided Tour Market Builder provides integrated media and marketing communications programs aimed to support business growth by increasing site traffic and qualified leads while lowering the cost of new account acquisition. Through consistent campaign management, business services companies in HR, IT, and similar sub-industries can enhance their overall valuation and consumer perception. 
If you are interested in increasing the valuation of your business through dedicated and optimized campaign management, learn more about Newswire's Earned Media Advantage Guided Tour Market Builder.
About Newswire​
Newswire delivers press release and multimedia distribution software and services (SaaS) that empower the Earned Media Advantage: greater brand awareness, increased traffic, greater return on media and marketing communications spend and the competitive edge. With over a decade of experience, Newswire continues to provide its customers with the ability to deliver the right message to the right audience at the right time through the right medium.​
To learn more how Newswire can help you, visit http://www.newswire.com. ​
Contact Information
Charlie Terenzio
VP of Earned Media Advantage Business 
Newswire
Office: 813-480-3766
Email: charlie@newswire.com
Source: Newswire
Share: