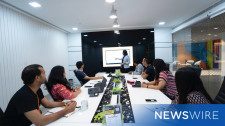 NEW YORK, September 21, 2021 (Newswire.com) - Stale. Uninteresting. Dull.
These are words many people equate to B2B marketing.
But, why?
Can't your B2B marketing be fresh, interesting, and entertaining?
If you're reading this, maybe you're the CEO, work closely with the CEO, or are a decision-maker in your company. And maybe you're in the midst of an intensive search to uncover new ways to build brand awareness and stand out in your industry. 
If we described your situation, perfect! We'll help you do just that through press release distribution.
Now, you're probably thinking, Wait, we said we wanted our B2B marketing to be interesting. Press releases are boring. 
Well, press releases were boring. 
"Press releases aren't what they used to be," said Charlie Terenzio, CMO and SVP of Media and Marketing Communications at Newswire. "Press releases have become an integral part of successful media and marketing strategies."
For many years, CEOs would instruct their team to draft a press release that barely covered the basics of a big announcement. 
Once it was written, someone on the marketing team would be instructed to pitch it to the media. 
But before they did that, they'd excuse themselves, run to the bathroom and splash cold water on their face to wake themselves up because the content was dull enough to put someone to sleep. 
It's harsh, but it's true. 
Press releases have historically been boring. 
And frankly, we were bored too. 
That's why we've disrupted the entire press release distribution landscape with our Media Advantage Program (MAP). 
Now, press releases are a marketing vehicle that helps companies tell their stories, articulate their expertise, and position themselves as thought leaders in their respective industries.
"Through the MAP, we're breathing new life into press release distribution to help our clients drive true results like traffic, leads, and earned media opportunities," Terenzio added. 
Our clients have access to our enriched press release distribution network and upgraded SaaS platform that empowers them to create newsworthy stories, launch targeted campaigns, and dig into detailed data to continually refine messaging and strategies to meet and exceed their marketing goals.
If you're the CEO of a B2B company, now is a good time to unlock real value and create a strategy that drives growth for your business. Act now and get a free Media and Marketing assessment and 10% off your next press release.
About Newswire
Newswire delivers its best-in-class technology as a service to provide high-impact press release distribution empowering the Media Advantage: greater brand awareness through earned media, increased traffic, greater search engine recognition, more leads, and increased sales.
Newswire is the only one in the industry with the Media Advantage Plan "MAP" that provides press release campaign automation that delivers press releases, media outreach and targeted commercial marketing to provide customers the going-to-market advantage required to compete for the mindshare and market share needed to accelerate sales. The "MAP" provides Newswire experts that customize a media and marketing communications plan and platform that ensures timely campaign production, and in a cost-effective manner that produces more value.
To learn more about press release distribution or the Media Advantage Plan, visit Newswire.com and check out why our customers have named us #1 for Customer Satisfaction in our industry for four years in a row.
For more information, visit http://www.newswire.com.
Contact Information:
Charlie Terenzio
CMO and SVP of Media and Marketing Communications
Newswire
Office: 813-480-3766
Email: charlie@newswire.com
Source: Newswire
Share: