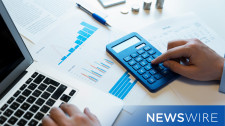 Newswire's innovative approach to press release distribution helps companies of all sizes and industries distribute the right message to the right audience at the right time.
SARASOTA, Fla., November 14, 2022 (Newswire.com) - The New Year is a few short months away. And while the last couple months of the year are typically merry and bright, for Chief Financial Officers (CFOs) it's crunch time as they finalize their budgets and strategies for the year ahead.
With the company's financial future in mind, CFOs are looking for ways to save money while generating results that move the needle.
Newswire, an industry leader in press release distribution and media technology, is helping CFOs make the most of their marketing budgets with its Media Advantage Platform (MAP).
The MAP is a full-service program that helps companies of all sizes and industries stay in front of their target audience by consistently and strategically transforming the value of a press release.
"Our MAP is a unique program that sets us apart from the competition in our industry," said Erik Rohrmann, Chief Operating Officer at Newswire. "We've combined all the software and services companies need to stand out in a crowded marketplace and rolled them into one cost-effective offering that creates a consistent return on investment."
Newswire's MAP gives CFOs confidence in knowing the money they're spending will generate real results and true value. That's because Newswire's MAP leverages the experience of its experts, a customized media communications plan, media technology, production and performance to deliver the right message to the right audience at the right time.
In fact, this year alone, Newswire's team of experts has created hundreds of earned media mentions for clients in top-tier media outlets such as Benzinga, Bloomberg, CNET, Forbes, and many more, as well as generated thousands of leads.
"Results are everything," added Rohrmann. "It's one thing to say you meet and exceed goals and it's another to show you can do it. Our team shows our clients on a daily basis that the results they want are achievable."
For CFOs who are interested in making the most of their media and marketing communications budget in 2023 and beyond, visit newswire.com to learn more.
About Newswire
Newswire is a media technology company that provides its clients the Media Advantage Platform consisting of press release distribution, media databases, media monitoring, and newsrooms that power the Media Advantage: greater brand awareness through earned media, increased online visibility through greater SEO recognition, and more sales inquiries through targeted digital marketing campaigns.
Through its disruptive Media Advantage Platform, relentless commitment to customer satisfaction, and passion for customer performance, Newswire is automating media and marketing communications for large and small businesses seeking to deliver the right message to the right audience at the right time for the right purpose.
To learn more about Newswire and its Media Advantage Platform, visit Newswire.com and discover why our customers have named us #1 for Customer Satisfaction and Ease of Use for four years in a row.
For more information, visit http://www.newswire.com.
Source: Newswire
Share: