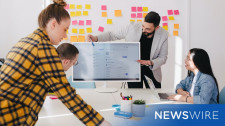 NEW YORK, September 22, 2021 (Newswire.com) - Organic social media? Check. Paid advertising? Check. Email marketing? Check. Press release distribution?
If the answer to the last question is the sound of crickets, let's talk. 
As a Chief Marketing Officer, it's your job to make sure every marketing base is covered and strategies are in place to build brand awareness, attract website visitors, improve search engine optimization (SEO) performance, generate leads, and increase sales. 
Every day is a juggling act and the thought of adding one more initiative to your already full plate probably sounds worse than drinking orange juice after brushing your teeth. 
But what if we told you press release distribution could unlock all the positive marketing outcomes we just described?
What if we told you that press release distribution could lead to earned media mentions that put your brand front and center on a bigger stage?
"Press releases are the not-so-secret weapon companies of all sizes and industries can use to stand out from their competition," said Charlie Terenzio, CMO and SVP of Media and Marketing Communications at Newswire. "We've revolutionized press release distribution and our clients are reaping the benefits."
Through our Media Advantage Program (MAP), small and midsize companies are driving hundreds of media mentions, thousands of marketing-qualified and sales-qualified leads, and more search traffic for top keywords. 
And when we talk about earned media mentions, we're talking about publications such as Forbes, The Wall Street Journal, Business Insider, CNBC, and USA Today, to name a few. 
Imagine sending an email with a website link and the subject line "We're in Forbes" to your CEO. 
You can see yourself spinning around in your computer chair, giving a fist pump, right?
These positive marketing results aren't just a dream, they're a reality for many companies and could be the same for you. 
That's because MAP is helping companies create newsworthy stories, launch targeted campaigns, provide reports on overall performance, and continually refine messaging and strategies to meet and exceed their marketing goals.
"From one CMO to another, you can't afford to pass up this opportunity to add press release distribution to your marketing mix," added Terenzio. 
If you're ready to unlock real value and impress the CEO of your company with undeniable results, we're offering free Media and Marketing assessments and 10% off your next press release.
About Newswire
Newswire delivers its best-in-class technology as a service to provide high-impact press release distribution, empowering the Media Advantage: greater brand awareness through earned media, increased traffic, greater search engine recognition, more leads, and increased sales.
Newswire is the only one in the industry that provides the Media Advantage Plan "MAP" that provides press release campaign automation that delivers press releases, media outreach and targeted commercial marketing to provide customers the going to market advantage required to compete for the mindshare and market share needed to accelerate sales. The "MAP" provides Newswire experts that customize a media and marketing communications plan and platform that ensures timely campaign production, and in a cost-effective manner that produces more value.
To learn more about press release distribution or the Media Advantage Plan, visit Newswire.com and check out why our customers have named us #1 for Customer Satisfaction in our industry for four years in a row.
For more information, visit http://www.newswire.com.
Contact Information:
Charlie Terenzio
CMO and SVP of Media and Marketing Communications
Newswire
Office: 813-480-3766
Email: charlie@newswire.com
Source: Newswire
Share: