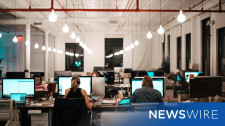 NEW YORK, April 7, 2022 (Newswire.com) - Spoiler alert! Companies of all sizes and industries can reap the brand-building benefits of consistent and strategic press release distribution.
Since 2004, Newswire has leaned on its robust SaaS platform, its expertise and experience in the industry, and its enriched press release distribution network to help companies turn their owned media into earned media.
As a result, Newswire clients have earned valuable media mentions in top-tier and relevant publications such as CNET, Forbes, MSN, People, The Wall Street Journal, Yahoo!, and many more.
These earned media mentions, along with brand awareness, attracting website visitors, improving SEO performance, and generating sales are results of consistent and strategic press release distribution.
"In marketing, it's said that 'everyone' isn't your audience. But, when it comes to press release distribution, every company, no matter the industry, can reap the benefits," said Charlie Terenzio, CMO and SVP of Media and Marketing Communications.
Newswire works with companies in a variety of industries including AI technology, cryptocurrency, healthcare, health and wellness, education, entertainment, pharmaceutical, real estate, technology, and more.
No matter the industry, what remains is the powerful potential press release distribution creates for companies. The benefits include but aren't limited to:
Stand out in a crowded marketplace and secure your piece of market share.
Create a positive perception of your brand with your target audience.
Control the narrative of your brand's story.
Cast a wider net and reach relevant media outlets with strategic targeting.
Position your brand as an industry thought leader.
"Press release distribution is an integral component of a company's overall media and marketing strategy," added Terenzio. "We know from experience that when used correctly, press releases can help brands distribute the right message to the right audience at the right time."
To learn more about how Newswire's integrated solutions are helping small and midsize businesses craft newsworthy content, deliver strategic media pitches, earn media mentions, grow their audience, expand their reach, and implement an effective go-to-market strategy, visit Newswire.com today.
About Newswire
Newswire delivers press releases and multimedia distribution software and services (SaaS) that empower the Earned Media Advantage: greater brand awareness, increased traffic, greater return on media and marketing communications spend, and the competitive edge. With over a decade of experience, Newswire continues to provide its customers with the ability to deliver the right message to the right audience at the right time through the right medium.
For more information, visit http://www.newswire.com.
Contact Information:
Charlie Terenzio
CMO and SVP of Media and Marketing Communications
Newswire
Office: 813-480-3766
Email: charlie@newswire.com
Source: Newswire
Share: