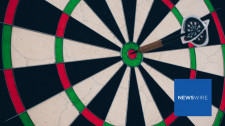 With press release distribution, businesses can leverage news, events, and announcements to build connections with new and relevant audiences.
NEW YORK, August 3, 2021 (Newswire.com) - Newswire's award-winning press release distribution provides businesses with an opportunity to quantify the impact of future events and company news using captivating headlines and engaging stories to connect with the audiences that matter most.
"Press release distribution offers numerous ways to connect and engage with the public," said Charlie Terenzio, CMO and SVP of Media and Marketing Communications at Newswire. "Whether it's a company announcement, new product launch or local event, it's important to know and understand your target audience in order to build a rapport and get them talking about your business."
Newswire's distribution network is built to help small businesses grow their brand through strategic, well-timed business announcements. Through press release distribution, small businesses can be thought leaders, sharing valuable insights and unique information that can only come from firsthand experience.
Furthermore, leveraging social media in tandem with press release distribution can extend a business's reach even further. Together, they can be extremely effective in establishing a brand story, creating more opportunities for potential consumers to connect with a business.
By connecting early and often, small businesses can keep their most passionate supporters informed. As people grow more enamored and more attached to a business, they become its most steadfast brand advocates.
"PR distribution gives companies a chance to demonstrate transparency, which is essential in today's business climate. Ultimately, people want to do business with the brands they know and trust," added Terenzio.
Visit Newswire.com today and learn more about how our integrated solutions are helping organizations grow their audience, expand their reach, and implement an effective go-to-market strategy.
About Newswire
Newswire delivers press releases and multimedia distribution software and services (SaaS) that empower the Earned Media Advantage: greater brand awareness, increased traffic, greater return on media and marketing communications spend, and the competitive edge. With over a decade of experience, Newswire continues to provide its customers with the ability to deliver the right message to the right audience at the right time through the right medium.
To learn more, visit http://www.newswire.com.
Contact Information
Charlie Terenzio
CMO and SVP of Media and Marketing Communications 
Newswire
Office: 813-480-3766
Email: charlie@newswire.com
Source: Newswire
Share: