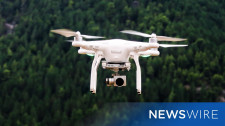 According to Grand View Research, the drone market is expected to grow by a compound annual growth rate of 57.5% between 2022 and 2028.
NEW YORK, April 26, 2022 (Newswire.com) - As the industry continues to expand, drone technology companies have a unique opportunity to secure their piece of market share and build a strong foundation for future success.
Newswire, an industry leader in press release distribution services, has worked alongside countless drone technology companies to help turn their owned media into earned media.
Through its comprehensive, full-service Media Advantage Plan (MAP), Newswire was able to help its client in the drone industry earn features in relevant publications such as Geospatial World, Dronelife.com and UAS Weekly.
Collectively, these websites attract nearly 100,000 visitors a month, which in turn expanded its client's reach to connect with and stay in front of their target audience.
"The MAP program harnesses the power of press release distribution to help our clients deliver the right message to the right audience at the right time," said Charlie Terenzio, CMO and SVP of Media and Marketing Communications at Newswire. "For our drone technology client, our ability to turn their owned media into earned media helped them secure features that helped build brand awareness."
Earned media mentions in relevant industry publications are beneficial for a number of reasons including:
Awareness - Earned media mentions provide companies with the ability to build relevant backlinks that can boost SEO performance and position the brand as an expert. These placements can also be used to create social media posts. Note: Before publishing, make sure the publication is tagged in the post to increase reach and exposure.
Targeting - Crafting compelling press releases that speak directly to a target audience is an impactful way to build an industry presence.
Reputation - Connecting and building relationships with relevant media publications through consistent press release distribution and earned media mentions will help create and solidify a positive reputation.
Companies that are part of Newswire's MAP experience first-hand the power of press release distribution. That's because this program provides brands of all sizes and industries with the necessary resources to secure features in relevant industry publications.
These earned media mentions have the power to build brand awareness, attract website traffic, improve SEO performance, increase sales and more.
To learn more about how Newswire's integrated solutions are helping small and midsize businesses craft newsworthy content, deliver strategic media pitches, earn media mentions, grow their audience, expand their reach, and implement an effective go-to-market strategy, visit Newswire.com today.
About Newswire
Newswire is a technology company that delivers press release distribution and press release campaigns by leveraging earned media outreach, SEO traffic and email marketing through campaign automation to help businesses land impactful media coverage, drive website traffic, generate leads and grow brand awareness. Through its industry-leading technology and its commitment to customer satisfaction, Newswire provides true value for businesses at a fraction of the cost of other solutions.
To learn more about press release distribution or the Media Advantage Plan, visit Newswire.com or check out why our customers have named us #1 for Customer Satisfaction in our industry for four years in a row.
Contact Information:
Charlie Terenzio
CMO and SVP of Media and Marketing Communications
Newswire
Office: 813-480-3766
Email: charlie@newswire.com
Source: Newswire
Share: