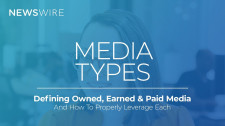 In its latest Smart Start video, Newswire explores the nuances and benefits of the various media types including earned media, paid media and owned media.
NEW YORK, June 9, 2022 (Newswire.com) - Media is a form of communication that delivers information to an audience. Examples of media include everything from blog posts to radio, magazines and online publications to television and much more.
No matter the type of media, the unifying characteristic is a focus on communication and disseminating content to a large group of people at once.
As an industry leader in press release distribution services, Newswire understands that creating a robust digital presence requires a comprehensive media strategy. And, that media strategy should leverage three main types of media which include earned media, paid media and owned media.
"While separate in nature, all three types of media work together to help companies of all sizes and industries stay in front of their target audience and build brand awareness," said Charlie Terenzio, CMO and SVP of Media and Marketing Communications at Newswire.
In its latest Smart Start video, Newswire explores the basics of three main media types, the benefits of each and how its team of experts helps its Media Advantage Plan (MAP) clients turn their owned media into earned media.
"This Smart Start video is a crash course on all things media," added Terenzio. "By gaining a better understanding of each respective media type along with its associated benefits, marketing professionals will put themselves in a better position to leverage them to their brand's advantage."
Watch the Media Types Explained Smart Start video.
About Newswire
Newswire is a technology company that provides press release distribution, media database and media monitoring technology that powers the media advantage: greater brand awareness, online visibility, SEO recognition, site traffic and increased sales by providing self-serve or full-service technology that automates press release distribution, media outreach, and monitoring that drives SEO recognition leading to more sales. Through its disruptive technology platform, relentless commitment to customer satisfaction, and passion for customer performance Newswire is automating media and marketing communications for large and small businesses all over the world.
To learn more about press release distribution or the Media Advantage Plan, visit Newswire.com or check out why our customers have named us #1 for Customer Satisfaction in our industry for four years in a row.
Contact Information:
Charlie Terenzio
CMO and SVP of Media and Marketing Communications
Newswire
Office: 813-480-3766
Email: charlie@newswire.com
Source: Newswire
Source: Newswire
Share: