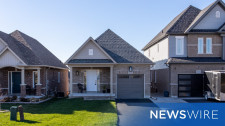 Newswire, an industry leader in press release distribution services, helped its Media Advantage Plan (MAP) client, EXIT Realty Corp. International, secure a valuable TV interview.
NEW YORK, October 11, 2021 (Newswire.com) - For nearly 20 years and counting, Newswire, an industry leader in press release distribution, has been helping its clients develop comprehensive media and marketing strategies to deliver the right message to the right audience at the right time.
EXIT Realty Corp. International, a disruptive real estate company with a unique business model and hundreds of brokerages home to thousands of experienced real estate agents across the U.S. and Canada, is a client of Newswire's Media Advantage Plan (MAP) and was recently featured in an interview on NTD News.
In the interview, Mike Murdock, the broker and owner of EXIT Realty Pro in Canton, Texas, discussed the latest housing data and shared his take on the current landscape of the Texas housing market.
"At EXIT Realty, our real estate agents are trusted advisors to our clients, and this opportunity to share our take on the current housing market allowed us to position ourselves as thought leaders in the industry," said Tami Bonnell, Co-Chair of EXIT Realty Corp. International. "With Newswire's help and expertise, we were able to secure this interview, which helped us build brand awareness and expand our reach."
As part of Newswire's MAP, EXIT Realty Corp. International has direct access to Newswire's enriched press release distribution network, robust SaaS platform, and its team of experts to craft compelling content, strategically distribute press releases, secure earned media opportunities, and much more.
"Interviews are an excellent way to showcase experience, strengthen credibility, and stay in front of a company's target audience," said Charlie Terenzio, CMO and SVP of Media and Marketing Communications at Newswire. "Our team was instrumental in connecting our client with this media publication and securing an interview that gave them the platform to build brand awareness."
NTD News is a New York-based global television network founded in 2001 and attracts nearly 100,000 website visitors a month.
To learn more about how Newswire's integrated solutions are helping other small to midsize companies grow their audience, expand their reach, and implement an effective go-to-market strategy, visit Newswire.com today.
About EXIT Realty
EXIT Realty is a company founded and built on human potential. A full-service, forward-thinking, real estate franchisor with offices across North America, EXIT has to date paid out more than half a billion dollars in single-level residual income to its associates. The Expert Marketing Suite™, including geolocation Smart Sign™ technology, gives sellers an edge in a competitive marketplace. A portion of every transaction fee received by EXIT Realty Corp. International is applied to its charitable fund, and to date, $6 million has been allocated to charity. For more information, please visit www.exitrealty.com and www.joinexitrealty.com.
About Newswire
Newswire delivers its best-in-class technology as a service to provide high-impact press release distribution, empowering the Media Advantage: greater brand awareness through earned media, increased traffic, greater search engine recognition, more leads, and increased sales.
Newswire is the only one in the industry that provides the Media Advantage Plan "MAP" that provides press release campaign automation that delivers press releases, media outreach and targeted commercial marketing to provide customers the going-to-market advantage required to compete for the mindshare and market share needed to accelerate sales. The "MAP" provides Newswire experts that customize a media and marketing communications plan and platform that ensures timely campaign production, and in a cost-effective manner that produces more value.
To learn more about press release distribution or the Media Advantage Plan, visit Newswire.com and check out why our customers have named us #1 for Customer Satisfaction in our industry for four years in a row.
For more information, visit http://www.newswire.com.
Contact Information:
Charlie Terenzio
CMO and SVP of Media and Marketing Communications
Newswire
Office: 813-480-3766
Email: charlie@newswire.com
Source: Newswire
Share: