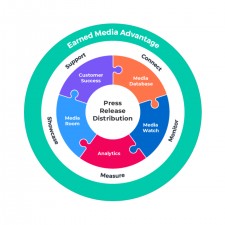 The Newswire team continues to provide specialized services for financial and public companies at competitive rates for the industry.
NEW YORK, May 5, 2020 (Newswire.com) - Since the launch of Newswire's Earned Media Advantage Guided Tour, the program has delivered substantial results for customers in the financial services sector. Multiple firms have had the opportunity to connect with key industry media personnel thanks to the expertise of Newswire's team of Earned Media Advantage Strategists, as well as its best-in-class platform.
When launching media, marketing, or communications campaigns for a financial firm, there are many roadblocks that CMOs, CEOs, and owners face. Many PR firms offer blanket services in which the same strategies used for other industries are applied to the financial services industry. The lack of 'customer-zation' and targeting with other distribution networks often leads to minimal results. Additionally, the prices for these kinds of services can often be extraordinarily high.
The Newswire Team understands the need for quality distribution, outreach, and campaign management to ensure that our financial services customers receive the kind of recognition that they are seeking. As a part of the Guided Tour, strategists work as an extension of the customer's in-house team to help increase brand awareness, traffic, and sales.
This allows small and mid-sized businesses to employ Newswire's expert team at a fraction of the cost of other PR firms and marketing agencies.
"We have a variety of financial clients that offer a multitude of different services," said Erik Rohrmann, COO and SVP at Newswire.
"They range from consulting firms, to software providers, to wealth management firms, and beyond. You simply cannot utilize a one-size fits all approach when it comes to campaign management for financial services companies. That is why our team of strategists work to develop and implement comprehensive campaigns that are tailored to the desires of the individual firms."
The Guided Tour helps businesses address the challenges related to their media and marketing efforts by providing the ability to leverage a dedicated Earned Media Advantage Strategist at Newswire to develop and implement a 'customerized' plan to meet their business objectives. Through the Guided Tour program, customers can experience Newswire's high-tech, high-touch service and industry-leading support throughout the journey for the Earned Media Advantage: greater brand awareness, increase website traffic, greater return on media and marketing communications spend, and increased sales.
By providing a fully integrated media and marketing communications strategy to deliver results, customers can have the right plan that is implemented via the right message and sent out at the right time to the right people. Rated No.1 in customer satisfaction, Newswire continues to excel in industry with its best-in-class platform and customer service by providing businesses a cost-effective media and marketing solution to support their sales and marketing efforts.
Find out how Newswire is Transforming the Value of a Press Releases today and learn how you can generate greater value and ROI across all of your PR campaigns.
About Newswire​
Newswire delivers press release and multimedia distribution software and services (SaaS) that empower the Earned Media Advantage: greater brand awareness, increased traffic, greater return on media and marketing communications spend and the competitive edge. With over a decade of experience, Newswire continues to provide its customers with the ability to deliver the right message to the right audience at the right time through the right medium.​
To learn more about how Newswire can help you, visit http://www.newswire.com.
Contact Information
Charlie Terenzio
VP of Earned Media 
​Newswire
​Office: 813-480-3766
Email: charlie@newswire.com
Source: Newswire
Share: