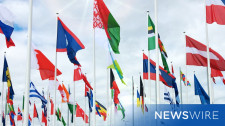 With Newswire's Global press release distribution, companies can expand their international influence like never before.
NEW YORK, September 14, 2021 (Newswire.com) - Newswire, the industry leader in press release distribution services, recently announced its brand-new network enrichments and platform upgrades, improving small businesses' ability to expand their reach into new, untapped markets around the world.
Newswire Global press release distribution network is Newswire's most extensive option and provides customers with the unique opportunity to connect with over 11,600 online, international and industry media outlets across 55 countries and four continents.
"For businesses that regularly conduct business and marketing efforts overseas, our Global distribution is the perfect option," said Charlie Terenzio, CMO and SVP of Media and Marketing Communications at Newswire. "Newswire Global was designed to maximize international reach and publish customers' news across a global media network."
Complimentary trade lists allow customers to distribute their press releases via email directly to select media and press contacts in a given industry for additional visibility and precision targeting.
Further improvements to the quality of analytics, data and reporting help customers better understand the reach and impact of their news. With Newswire Global press release distribution, customers can better understand content engagement, their performance across media channels and measure return on investment (ROI) more effectively.
"This distribution network is ideal for customers looking to make a global impact, increasing their brand awareness and digital footprint internationally," added Terenzio.
Visit Newswire.com and speak with a PR Strategist today to unlock extra value from your press release distribution.
About Newswire
Newswire is a technology company that delivers press release distribution, earned media outreach, SEO traffic, and lead generation through campaign automation to help businesses land impactful media coverage, drive website traffic, generate qualified leads, and grow brand awareness. Through its industry-leading technology and its commitment to customer satisfaction, Newswire provides true value for businesses at a fraction of the cost of other solutions. 
To learn more about press release distribution or the Media Advantage Plan, visit Newswire.com or check out why our customers have named us #1 for Customer Satisfaction in our industry for four years in a row.
For more information, visit http://www.newswire.com.
Contact Information:
Charlie Terenzio
CMO and SVP of Media and Marketing Communications
Newswire
Office: 813-480-3766
Email: charlie@newswire.com
Source: Newswire
Share: