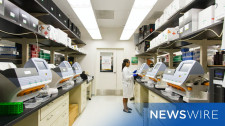 NEW YORK, September 28, 2021 (Newswire.com) - Eye rolls. Heart palpitations. Clenched fists. Angry mumbling. These are just a few of the reactions many Chief Executive Officers can experience when they see their competitors featured in top-tier publications. 
Fierce competition comes with being in the healthcare industry. In fact, it's reported that there are 784,626 companies in the U.S. healthcare sector.
Every waking minute of the day is spent finding ways to gain an edge on your competitors. 
It's the everything you can do I can do better mentality. 
It's frustrating, exhilarating, exhausting, and daunting all at the same time. 
But what if our team at Newswire told you that you haven't tapped into all the available resources out there? Resources that'll help you build brand awareness, improve search engine rankings, earn media mentions, generate leads, and make more money?
You might think you'd need a genie and three wishes to make these outcomes your reality, but that's not the case. 
All you need is press release distribution. 
"It blows my mind just how powerful consistent press release distribution is in creating the positive marketing outcomes companies yearn for," said Charlie Terenzio, CMO and SVP of Media and Marketing Communications at Newswire. "We've helped our clients earn
hundreds of media mentions, thousands of marketing-qualified and sales-qualified leads, and more search traffic for top keywords. And that's just the tip of the iceberg."
Clients that are part of our Media Advantage Plan (MAP) have direct access to our enriched press release distribution network, our robust SaaS platform, and the expertise of our Media and Marketing team to stand out from their competition through strategic and consistent press release distribution. 
"Think of press releases like you would an amplifier," Terenzio added. "Consumers will be able to faintly hear you without it, but with it, it's so loud they can't miss it, and that's exactly what we want."
Your target audience is waiting to hear from you. Act now and get a free Media and Marketing assessment and 10% off your next press release.
About Newswire
Newswire delivers its best-in-class technology as a service to provide high-impact press release distribution empowering the Media Advantage: greater brand awareness through earned media, increased traffic, greater search engine recognition, more leads, and increased sales.
Newswire is the only one in the industry that provides the Media Advantage Plan "MAP" that provides press release campaign automation that delivers press releases, media outreach and targeted commercial marketing to provide customers the going to market advantage required to compete for the mindshare and market share needed to accelerate sales. The "MAP" provides Newswire experts that customize a media and marketing communications plan and platform that ensures timely campaign production, and in a cost-effective manner that produces more value.
To learn more about press release distribution or the Media Advantage Plan, visit Newswire.com and check out why our customers have named us #1 for Customer Satisfaction in our industry for four years in a row.
For more information, visit http://www.newswire.com.
Contact Information:
Charlie Terenzio
CMO and SVP of Media and Marketing Communications
Newswire
Office: 813-480-3766
Email: charlie@newswire.com
Source: Newswire
Share: