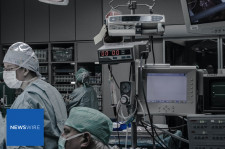 To prevent overcrowding and promote operational efficiency, doctors in rural areas have gone digital to better serve their clientele.
NEW YORK, November 18, 2020 (Newswire.com) - Newswire's Earned Media Advantage Guided Tour Sales Accelerator is helping doctors offices, hospitals, and other healthcare institutions promote telemedicine in the months leading up to what is being called the "second wave" of the coronavirus pandemic. This reality has become increasingly prevalent in areas of the country that have traditionally favored in-person medical experiences - in particular, the rural communities in America. 
"In-person experiences are becoming less popular as winter approaches, and this most certainly applies in the healthcare and medical fields," said Charlie Terenzio, Newswire's VP Earned Media Advantage Business. 
A report by Dennis Turner of 25ABC provided a first-hand account of a patient in Central Texas who had tried a telemedicine experience for the first time. Her reaction was positive, which seems to be fitting given the trend of rural areas beginning to adopt virtual consultations at a rapid pace. As Turner went on to explain, "telemedicine provides efficiency for doctors and saves patients a lot of time." 
"Visits to the doctor have become a complex issue since the initial spike of the crisis, and telemedicine has been the go-to solution for millions of Americans as a result. Companies implementing such technology can use the Guided Tour to reach new clients and showcase their commitment to quality care and patient safety," said Terenzio. 
Newswire's strategists have recognized this reality and have helped healthcare providers that have adopted such technologies in their efforts to reach new audiences. By launching targeted press release distribution and media outreach campaigns, healthcare companies can assist new patients who may otherwise find it difficult to receive quality care.  
Newswire's EMA GT Sales Accelerator provides a cost-effective solution for healthcare leaders as they grow their lead funnels and boost their opportunities to attract new patients. As telemedicine grows in popularity, businesses can enhance their brand awareness by launching relevant content campaigns demonstrating their usage of the technology. 
Learn how Newswire's Earned Media Advantage Guided Tour Sales Accelerator can help your business bolster its content campaigns today. 
About Newswire
Newswire delivers press release and multimedia distribution software and services (SaaS) that empower the Earned Media Advantage: greater brand awareness, increased traffic, greater return on media and marketing communications spend and the competitive edge. With over a decade of experience, Newswire continues to provide its customers with the ability to deliver the right message to the right audience at the right time through the right medium.
To learn more about how Newswire can help you, visit http://www.newswire.com.
Contact Information
Charlie Terenzio
VP of Earned Media Advantage Business 
Newswire
Office: 813-480-3766
Email: charlie@newswire.com
Source: Newswire
Share: