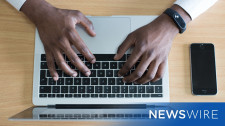 RALEIGH, N.C., September 29, 2023 (Newswire.com) - Newswire, a press release distribution services leader, is helping marketing professionals hone their writing skills and make the most of the Associated Press (AP) Style.
AP Style is the gold standard for news writing, grammar, abbreviations and titles and ensures all media worldwide have the same structure to work with.
"When creating a press release, using AP Style is a great way to show professionalism and make a positive impression on the media," said Jennifer Hammers, Executive Vice President of Sales and Marketing at Issuer Direct. "Not only does it provide the necessary facts and details, but it also gives journalists the information they need to develop their own unique story. Utilizing AP Style can help brands connect with the media and share their message in an engaging and informative way."
One of the most common questions is how do you format a press release dateline with AP Style?
The dateline is usually at the beginning of the release, and it tells the reader when and where the story started.
According to AP Style, it should include "a city name, entirely in capital letters, followed in most cases by the name of the state, county, or territory where the city is located." Some major cities, such as New York City, are written as NEW YORK and Washington D.C. is WASHINGTON.
"With AP Style datelines, readers can quickly and easily verify the content's validity," added Hammers. "This streamlined format provides readers with the information they need to make informed decisions."
To learn more about how Newswire's press release distribution services are helping businesses worldwide distribute the right message to the right audience at the right time, visit Newswire.com today.
About Newswire
Newswire is a media technology company that provides its clients with the Press Release Optimizer, which consists of press release distribution, media databases, media monitoring, and online media rooms that power the Media Advantage: greater brand awareness through earned media, increased online visibility through content strategy and planning as well as greater SEO recognition.
Through its disruptive Press Release Optimizer, relentless commitment to customer satisfaction, and passion for customer performance, Newswire is automating media and marketing communications for large and small businesses seeking to deliver the right message to the right audience at the right time for the right purpose.
To learn more about Newswire and its Press Release Optimizer, visit Newswire.com and discover why our customers have named us #1 for Customer Satisfaction and Ease of Use for four years in a row. For more information, visit https://www.newswire.com.
Newswire is a wholly owned subsidiary of Issuer Direct, a leading communications and compliance company, providing solutions for both Public Relations and Investor Relations Professionals. For more information, please visit www.issuerdirect.com.
Source: Newswire
Share: