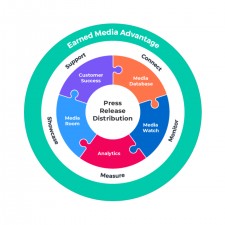 Retail companies can leverage the power of the market builder to expand their growth efforts as they face uncertain times.
NEW YORK, July 30, 2020 (Newswire.com) - With the majority of the United States seeing spikes in COVID-19 cases during the second wave of the coronavirus pandemic, many retail companies are bracing for another challenging period of change and operational adaptation. Brands that have successfully established safe and efficient protocols for consumers can continue to grow their brand and market presence with Newswire's Earned Media Advantage Guided Tour Market Builder - a system that has proven to garner valuable media coverage, boost industry thought leadership, and increase brand awareness. 
The EMA GT Market Builder's ability to increase site traffic for retail brands results in the generation of qualified leads, many of whom are likely interested in purchasing site items. This ongoing pandemic has seen the online retail industry expand in a rapid fashion, with many Americans preferring to shop online than take any risks that come with in-person experiences. With increased leads online, companies can improve sales figures at a time in which online market presence has proven to be progressively vital to the success of retail brands. 
"The Market Builder is a perfect expansion toolkit for any retail brand that wants to do more than just survive during this pandemic," said Charlie Terenzio, Newswire's VP Earned Media Advantage Business. "It's a tool that allows brands to thrive and grow as they navigate this new normal and rebound."
With the EMA GT Market Builder, customers receive 12 digital releases (1 per month), as well as direct media pitching services for each of the 12 campaigns. In addition to the distribution and outreach, customers also receive multiple email marketing campaigns per month, with each campaign focused on reaching targeted contacts; these campaigns are produced and launched in accordance with the customer's press release distribution schedule. 
All of these components are included at a fraction of the cost of competing services, resulting in a lower cost of new account acquisition for retail brands looking to make a big splash in the second half of the summer season. 
"If you are a CMO, content manager or team lead for a retail brand who wants to expand the company's growth efforts through consistent and effective media and marketing communications campaigns, then the EMA GT Market Builder would be a tremendous proven tool to have in your arsenal," said Anthony Santiago, Newswire's VP of Marketing. 
Newswire's Earned Media Advantage Guided Tour Market Builder provides integrated media and marketing communications programs aimed to support business growth. With strategic campaign management and efficient programs in place, the EMA GT Market Builder puts your business in the best position to rebound from COVID for the new normal and increased demand in the future. 
Learn how Newswire's Earned Media Advantage Guided Tour Market Builder can amplify your growth efforts during the COVID-19 crisis by navigating to the official program page. 
About Newswire​
Newswire delivers press release and multimedia distribution software and services (SaaS) that empower the Earned Media Advantage: greater brand awareness, increased traffic, greater return on media and marketing communications spend and the competitive edge. With over a decade of experience, Newswire continues to provide its customers with the ability to deliver the right message to the right audience at the right time through the right medium.​
To learn more about how Newswire can help you, visit http://www.newswire.com.
Contact Information
Charlie Terenzio
VP of Earned Media Advantage Business 
Newswire
Office: 813-480-3766
Email: charlie@newswire.com
Source: Newswire
Share: