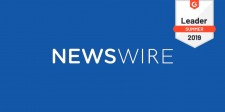 In a World of Artificial Intelligence and Automation, Human Intelligence and Customer Success Keep Newswire Top of Mind.
NEW YORK, July 18, 2019 (Newswire.com) - G2Crowd, the leader peer-to-peer reviews for business software, has recognized Newswire as an industry leader in press release distribution for a second year in a row. While corporate behemoths boast colossal teams and advances in artificial intelligence, Newswire's advantage remains unchanged: a resolute commitment to providing exceptional customer success empowering the earned media advantage.
Through a rigorous vetting process, G2 scores products and vendors based on reviews from the business community. How can a lean tech startup consistently rank among industry titans whose valuations are in the billions?
Newswire delivers on its strengths: An unparalleled customer experience coupled with best in class process and technology. Even as unrelenting innovations push the boundaries of what technology is capable of, human intelligence and customer success remain the cornerstone of the business model.
Anthony Santiago, Vice President of Marketing at Newswire, puts it plainly: "We're thankful for the thousands of customers who trust Newswire to distribute their stories to the right audience at the right time using the right medium. Customers create competitive advantages, build their brand, increase traffic, and earn greater returns on their marketing communications spend when they inspire their audience." 
In an industry that is becoming increasingly enveloped by AI and automation, Newswire is an outlier in its unwavering focus to put the human first and forge real connections with real people. By going above and beyond to address the specific needs of each of its clients, Newswire has defended its top spot year after year among the biggest players in public relations, fighting dollars with sense.
With the right blend of science, process and technology, Newswire has gained recognition by providing customers a PR advantage. As industries across the board migrate towards AI and automation, building real human connections is becoming more of a rarity. However, Newswire is showing no desire to blend in with the crowd by doubling down on its commitment to customer success.
About Newswire
Newswire delivers press release and multimedia distribution software and services (SaaS) that empower the earned media advantage: greater brand awareness, increased traffic, greater return on marketing communications spend and the competitive edge. With over a decade of experience, Newswire continues to provide its customers with the right medium to deliver the right message to the right audience at the right time.
To learn and experience Newswire, visit http://www.newswire.com.
Contact Information
Anthony Santiago
Vice President of Marketing
Newswire
Office: 917-398-2622
anthony@newswire.com
Source: Newswire
Share: