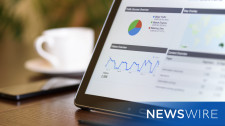 RALEIGH, N.C., October 5, 2023 (Newswire.com) - Newswire, an industry leader in press release distribution, can help clients understand the connection between press release distribution and improved search engine optimization (SEO) performance.
When people use search engines such as Google, results are based on information retrieved by indexing software, with the most accurate pages ranking highest on the first page of results. Press releases are a great marketing tool to increase SEO performance.
"Press releases that include relevant keywords and phrases can help brands improve their search engine results page ranking," said Jennifer Hammers, Executive Vice President of Sales and Marketing at Issuer Direct. "We've seen firsthand that a consistent distribution of keyword-focused press releases has helped our clients increase website traffic, build brand awareness and much more."
Companies need to track their content's SEO performance to maximize reach by being aware of key metrics such as organic traffic, time on page, and domain authority.
Organic traffic is from unpaid sources and is a great way to gain a competitive edge in the industry. Well-optimized online press releases that are the ideal length for Google's indexing software and can help improve time on-site and decrease bounce rates.
Time on page is an important metric to pay attention to as algorithms assume the longer a user spends on a page, the more relevant and engaging the content is. If the press release was hosted on the company's website, an optimized campaign can help improve overall time on site.
Domain authority is a metric developed by Moz that measures how likely a website is to rank in search engine result pages (SERPs). Companies can use domain authority to determine the ranking strength of their website over time by creating and maintaining a stream of quality online press release content relevant to their target audience.
To learn more about how Newswire's press release distribution services can help companies improve their SEO performance, visit Newswire.com.
About Newswire
Newswire is a media technology company that provides its clients with the Press Release Optimizer, which consists of press release distribution, media databases, media monitoring, and online media rooms that power the Media Advantage: greater brand awareness through earned media, increased online visibility through content strategy and planning as well as greater SEO recognition.
Through its disruptive Press Release Optimizer, relentless commitment to customer satisfaction, and passion for customer performance, Newswire is automating media and marketing communications for large and small businesses seeking to deliver the right message to the right audience at the right time for the right purpose.
To learn more about Newswire and its Press Release Optimizer, visit Newswire.com and discover why our customers have named us #1 for Customer Satisfaction and Ease of Use for four years in a row. For more information, visit https://www.newswire.com.
Newswire is a wholly owned subsidiary of Issuer Direct, a leading communications and compliance company, providing solutions for both Public Relations and Investor Relations Professionals. For more information, please visit www.issuerdirect.com.
Source: Newswire
Share: