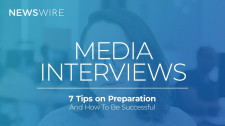 NEW YORK, April 27, 2022 (Newswire.com) - What makes a media interview with a journalist successful?
That's the question Newswire, an industry leader in press release distribution services, addresses in its brand-new Smart Start video.
Media interviews are intended to build brand awareness and share knowledge and opinions with the publication's audience, whether it's via television, print, radio, or online.
These earned media opportunities provide brands and professionals alike with the ability to reach a targeted audience.
"For companies of all sizes and industries, media interviews can be a powerful way to build brand awareness and showcase their expertise in their respective industries," said Charlie Terenzio, CMO and SVP of Media and Marketing Communications at Newswire.
But to reap the benefits of a media interview requires a level of preparation, and in its recent Smart Start video, Newswire covers a number of topics including:
The benefits of securing a media interview.
Tactical advice for professionals who've scheduled an interview.
How to make the most of the opportunity.
Post-interview follow-up tips.
"Whether it's your first interview or you've done more than you can count, this Smart Start video provides tactical and practical advice that viewers can use to make the most of their next interview opportunity," added Terenzio.
Watch the Media Interviews Smart Start video to learn more.
About Newswire
Newswire is a technology company that delivers press release distribution and press release campaigns by leveraging earned media outreach, SEO traffic and email marketing through campaign automation to help businesses land impactful media coverage, drive website traffic, generate leads and grow brand awareness. Through its industry-leading technology and its commitment to customer satisfaction, Newswire provides true value for businesses at a fraction of the cost of other solutions.
To learn more about press release distribution or the Media Advantage Plan, visit Newswire.com or check out why our customers have named us #1 for Customer Satisfaction in our industry for four years in a row.
Contact Information:
Charlie Terenzio
CMO and SVP of Media and Marketing Communications
Newswire
Office: 813-480-3766
Email: charlie@newswire.com
Source: Newswire
Share: