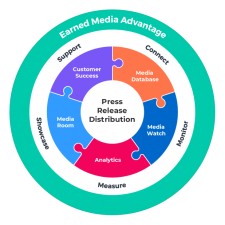 Transforming 'owned media' into the Earned Media Advantage, industry-leading tech companies entrust Newswire's Guided Tour to improve media and marketing communications strategy
NEW YORK, January 30, 2020 (Newswire.com) - Newswire's Earned Media Advantage Guided Tour has revitalized and helped industry-leading tech companies discover untapped opportunities hidden in press releases. Each tech company connected with an Earned Media Advantage Strategist to complete a media communications survey, which allowed the strategist to create a comprehensive media and marketing communications plan based on each company's content and goals. This plan adds value to every release, complimenting press releases with programs and campaigns. This new media and marketing strategy on demand has been adopted to accelerate their time to market and gain the Earned Media Advantage: greater brand awareness, increased traffic, generate greater return on media and marketing communications spend, and increased sales. 
"Seeing these leading tech companies further prosper in the industry thanks to the Guided Tour has been a true win for Newswire," said Charlie Terenzio, Director of Earned Media Strategy at Newswire. 
The technology space is constantly changing with new innovations being revealed every day. As part of the Guided Tour, tech companies are able to stay ahead of the game with the help of their strategist, who keeps a close look at emerging industry trends monitoring and creating strategies on how they can get ahead. 
Speaking about the process of discovering new opportunities for each tech company, Terenzio said, "Strategists work diligently with each company to better understand their needs. With a fresh set of new eyes, our strategists are able to pinpoint exciting new ventures or stories the tech companies would not have found themselves."
Based on the data, strategists are able to create a 'customerized' media and marketing communications plan on-demand to be used for every press release campaign a tech company decides to publish. Having this on-demand strategy helps improve the longevity of each campaign, cut the company's time to market and take a closer step in gaining the Earned Media Advantage. 
Discover How the Earned Media Advantage is Transforming Business today and learn how to compete in the industry.
About Newswire
Newswire delivers press release and multimedia distribution software and services (SaaS) that empower the Earned Media Advantage: greater brand awareness, increased traffic, greater return on media and marketing communications spend and a competitive edge. With over a decade of experience, Newswire continues to provide its customers with the ability to deliver the right message to the right audience at the right time through the right medium.
To learn and experience Newswire, visit http://www.newswire.com.
Contact Information​​:
 
Anthony Santiago
Vice President of Marketing
Newswire
Office: 917-398-2622
​anthony@newswire.com​
Source: Newswire
Share: