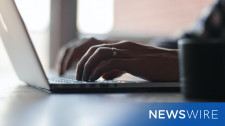 Learn more about the ideal word count and the proper structure of a press release.
NEW YORK, April 11, 2022 (Newswire.com) - A press release is a compelling and concise news story that's typically written by a public relations professional and distributed to targeted media sources to announce something newsworthy.
The goal is to get coverage from relevant publications and be noticed by a company's target audience.
As an industry leader in press release distribution services, Newswire has found that successful press releases include a newsworthy angle, use the inverted pyramid to properly structure the information, and keep the content within a specified word count range.
"Press releases are a powerful marketing vehicle that helps companies of all sizes and industries deliver the right message to the right audience at the right time," said Charlie Terenzio, CMO and SVP of Media and Marketing Communications at Newswire.
The ideal length of a press release is between 300 and 400 words and should be no longer than a page with spacing and formatting taken into consideration.
To address the most relevant information writers should keep the following press release format in mind:
Compelling headline - The headline of the press release is like a first impression. Make it direct, clear, and compelling to capture the readers' attention. Be sure to infuse a relevant SEO keyword in the headline as well.
Press release summary - Provide readers with supporting information that creates context.
First paragraph - Address the 5 W's + how: who, what, where, when, why and how.
Second paragraph - Include a quote that backs up any claims and provides contextual information.
Last paragraph - Share additional information that supports the overall message of the press release and encourages people to take a defined action.
"Press releases cover a lot of valuable information and it can be easy to exceed the ideal press release length of 300 to 400 words," added Terenzio. "Having a framework in place while writing will help marketing professionals edit not-so-important information from their press releases."
To learn more visit Newswire.com today.
About Newswire
Newswire delivers press releases and multimedia distribution software and services (SaaS) that empower the Earned Media Advantage: greater brand awareness, increased traffic, greater return on media and marketing communications spend, and the competitive edge. With over a decade of experience, Newswire continues to provide its customers with the ability to deliver the right message to the right audience at the right time through the right medium.
For more information, visit http://www.newswire.com.
Contact Information:
Charlie Terenzio
CMO and SVP of Media and Marketing Communications
Newswire
Office: 813-480-3766
Email: charlie@newswire.com
Source: Newswire
Share: