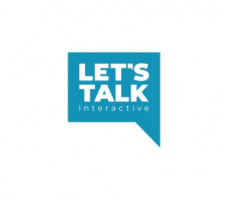 NEW YORK, April 4, 2022 (Newswire.com) - Let's Talk Interactive is a leading provider of customizable telehealth solutions including HIPAA-compliant video conferencing software that pairs seamlessly with a host of hardware solutions and peripheral options.
In March 2021, Let's Talk Interactive joined Newswire's Media Advantage Plan (MAP) with the goal of becoming the leader in telehealth software communications providers.
To help Let's Talk Interactive achieve this goal, Newswire leverages its industry-leading press release distribution services, its robust SaaS platform and the expertise of its team to help build brand awareness, improve SEO, boost website traffic, earn valuable media mentions and more.
"When working with Newswire, we feel as if we're their only client because of the attention to detail and the level of service we receive," said Arthur Cooksey, founder and CEO of Let's Talk Interactive. "I'm pleased with the positive outcomes and opportunities we've had so far, and I look forward to what's to come through our partnership with Newswire."
For more than a year, Newswire has worked alongside the Let's Talk Interactive team to develop and distribute newsworthy press releases and launch targeted campaigns that have led to earned media mentions among other positive outcomes.
To highlight these successes, Newswire recently published a brand-new case study that covers a number of topics including:
How the 5 P's of the MAP are helping Let's Talk Interactive meet and exceed its media and marketing goals
How consistent and strategic press release distribution leads to valuable earned media mentions for the company
Overview of results
"With each press release and earned media mention, Let's Talk Interactive continues to bolster its presence in the telehealth industry," said Charlie Terenzio, CMO and SVP of Media and Marketing Communications. "The success we've achieved so far through this partnership is just the beginning. The future is bright for Let's Talk Interactive."
Download the Let's Talk Interactive Case Study today.
About Newswire
Newswire delivers press releases and multimedia distribution software and services (SaaS) that empower the Earned Media Advantage: greater brand awareness, increased traffic, greater return on media and marketing communications spend, and the competitive edge. With over a decade of experience, Newswire continues to provide its customers with the ability to deliver the right message to the right audience at the right time through the right medium.
For more information, visit http://www.newswire.com.
Contact Information:
Charlie Terenzio
CMO and SVP of Media and Marketing Communications
Newswire
Office: 813-480-3766
Email: charlie@newswire.com
Source: Newswire
Share: