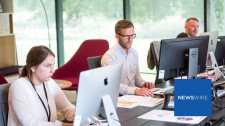 Create and implement the right media outreach strategy to develop relationships with the press.
NEW YORK, July 12, 2021 (Newswire.com) - Newswire's award-winning press release distribution platform is one of several tools designed to help businesses jumpstart their public relations (PR) efforts. 
Effective PR starts with better data and Newswire's media database is built to connect businesses with journalists and industry media.
"Having accurate, up-to-date information is the first step when it comes to creating and implementing a successful media outreach strategy," said Charlie Terenzio, CMO and SVP of Media and Marketing Communications at Newswire. "Newswire's database lets customers easily identify the right contacts, build their own custom media lists, and even review journalists' most recent articles for improved personalization and targeting."
With over 1.8 million media contacts, Newswire's media database is among the most comprehensive in the industry. Simple, yet powerful filtering options along with detailed journalist profiles help users precisely tailor their pitches for a more personalized approach.
Users can manage contact information, build their own lists, import or export their own contacts, and easily share data with team members. Newswire's media database makes it easy to integrate with other marketing tools and systems for complete freedom when it comes to managing data.
"Whether you're looking to connect with reporters, journalists, influencers, or other media personalities, starting with a reputable database is a good first step in building better, longer-lasting relationships with the media," added Terenzio.
Visit Newswire.com today and learn more about how Newswire's integrated solutions are helping organizations grow their audience, expand their reach, and implement an effective go-to-market strategy.
About Newswire
Newswire delivers press releases and multimedia distribution software and services (SaaS) that empower the Earned Media Advantage: greater brand awareness, increased traffic, greater return on media and marketing communications spend, and the competitive edge. With over a decade of experience, Newswire continues to provide its customers with the ability to deliver the right message to the right audience at the right time through the right medium.
To learn more, visit http://www.newswire.com.
Contact Information
Charlie Terenzio
CMO and SVP of Media and Marketing Communications
Newswire
Office: 813-480-3766
Email: charlie@newswire.com
Source: Newswire
Share: