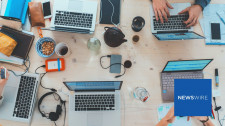 Newswire has created end-to-end public relations services to help its clients build brand awareness, improve SEO, increase website traffic, and much more.
NEW YORK, August 5, 2021 (Newswire.com) - As an industry leader in press release distribution services, Newswire is committed to customer satisfaction.
An integral piece in the company's overall success lies not only in its experience and robust SaaS technology but its ability to educate its clients and those in the industry.
In its latest Smart Start guide, Newswire highlights the benefits of working with a media and marketing communications team.
"Being prepared is a catalyst to the success of any company, no matter the industry," said Charlie Terenzio, CMO and SVP of Media and Marketing Communications at Newswire. "This Smart Start, in particular, highlights how the future of public relations lies in having a sound integrated media and marketing communication plan, plus a team to effectively execute it."
This is where companies that are part of the Newswire Media and Marketing Guided Tour have an edge over their competition, as they have direct access to the company's award-winning press release distribution services and its team of experts, helping to deliver the right message to the right audience at the right time.
In its 7 Reasons You Should Work With a Media and Marketing Communication Team Smart Start guide, Newswire shares an overview of why you should work with an experienced media and marketing communications team and the associated benefits of doing so, in addition to a variety of other topics.
"Our clients who are leaning on the expertise of Newswire's Media and Marketing team are ahead of the game, and their earned media mentions, improved brand awareness and positioning in their particular markets are a testament to that," Terenzio added. 
To learn how to leverage a media and marketing communications team to reach and exceed your business goals, download Newswire's latest Smart Start guide. 
About Newswire
Newswire delivers press release and multimedia distribution software and services (SaaS) that empower the Earned Media Advantage: greater brand awareness, increased traffic, greater return on media and marketing communications spend, and the competitive edge. With over a decade of experience, Newswire continues to provide its customers with the ability to deliver the right message to the right audience at the right time through the right medium.
For more information, visit http://www.newswire.com.
Contact Information
Charlie Terenzio
CMO and SVP of Media and Marketing Communications 
Newswire
Office: 813-480-3766
Email: charlie@newswire.com
Source: Newswire
Share: