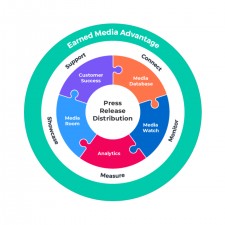 Newswire's Earned Media Advantage Guided Tour has helped the money management and payment platform spread their message, earning media coverage from TechCrunch and ConstructionDive.
NEW YORK, March 12, 2020 (Newswire.com) - Newswire's integrated, on-demand media and marketing communications utility has recently helped acquire coverage for a money management and technology platform that helps contractors and professionals in the construction industry get paid faster and relieve their cash flow problems. The company recently completed a round of funding backed by a series of premier venture capital groups. With the help of Newswire's industry experts, the company received coverage from outlets including TechCrunch and ConstructionDive.
"It's a testament to how well our system works across any industry," says Charlie Terenzio, Director of Earned Media Strategy at Newswire. "Our expertise in media and marketing communications has helped to signal the value they provide to consumers who may not have known that this kind of help was available. By leveraging our connections and our reputation in the industry to pitch to the most relevant media contacts, we're able to expand their audience through increased brand awareness."
Newswire's industry expertise was instrumental in the development of a high-touch media and marketing communications strategy consisting of multiple avenues of opportunity across various mediums. Strategic press release distribution timing, along with targeted email marketing campaigns to relevant audiences in both technology and construction, helped to present different parts of the story simultaneously. At the same time, direct pitching to Newswire's media contacts helped paint the bigger picture for the most comprehensive approach to acquiring earned media coverage. Multiple campaigns rapidly put into production helped underscore the company's industry expertise and the tremendous value they provide to customers.
"We're excited that our repeated successes continue to compound on one another, and as our system improves and becomes more streamlined, we'll be able to help other companies achieve similar success with their PR and marketing efforts," adds Terenzio.
Customers can now transform owned media (press releases) into the Earned Media Advantage: greater brand awareness, increased traffic, greater return on media spend and increased sales. As a result, customers can lower their costs of press releases, increase the value of each release and lower paid-media costs while shortening the journey for the Earned Media Advantage.
The journey is designed to empower the Earned Media Advantage by developing a plan that is based on a media communications survey that defines press release content value and distribution. Customers are also provided a media communications calendar, services to set up, operate and manage media databases, media monitoring alerts, statistical analysis, reporting and media room news collection and sharing to ensure Customer Success.
Download How the Earned Media Advantage is Transforming Business and discover how to empower your go-to-market strategies with the Earned Media Advantage: greater brand awareness, increased traffic, generate greater return on media and marketing communications spend and increased sales.
About Newswire​
Newswire delivers press release and multimedia distribution software and services (SaaS) that empower the Earned Media Advantage: greater brand awareness, increased traffic, greater return on media and marketing communications spend and the competitive edge. With over a decade of experience, Newswire continues to provide its customers with the ability to deliver the right message to the right audience at the right time through the right medium.​
To learn and experience Newswire, visit http://www.newswire.com.
Contact Information
 
Charlie Terenzio
Director of Earned Media Strategy
​Newswire
​Office: 813-480-3766
Email: charlie@newswire.com
Source: Newswire
Share: