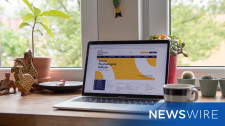 NEW YORK, March 23, 2022 (Newswire.com) - Newswire, an industry leader in press release distribution services, continues to help small and midsize companies of all industries develop and implement comprehensive media and marketing communications strategies that turn their owned media into earned media.
For nearly 20 years and counting, Newswire has grown with the market to provide its clients with the services and resources needed to stand out from the competition.
An important component of its approach is leveraging thought leadership content to build brand awareness, improve credibility, strengthen trust, and solidify authority in the space.
As practitioners of its own approach to achieving these positive outcomes, Newswire's CMO and SVP of Media and Marketing Communications Charlie Terenzio was recently featured in two Forbes Communications Council articles.
In the first article, Terenzio shares an example of a vocal brand that stands out on social media, and in the second feature, shares information about a non-traditional media channel businesses can use to build a brand.
"It's one thing to tell your clients about the importance of a marketing initiative, and it's another to actually show them the importance," said Terenzio. "Through these articles, we're able to practice what we preach and show our clients how thought leadership content can be a valuable avenue for their brand to explore, too."
Forbes Communications Council is an invite-only organization for senior-level communications and public relations executives to share their insights on a variety of industry-driven topics.
To learn more about how Newswire's integrated solutions are helping small to midsize companies grow their audience, expand their reach, and implement an effective go-to-market strategy, visit Newswire.com today.
About Newswire
Newswire delivers press releases and multimedia distribution software and services (SaaS) that empower the Earned Media Advantage: greater brand awareness, increased traffic, greater return on media and marketing communications spend, and the competitive edge. With over a decade of experience, Newswire continues to provide its customers with the ability to deliver the right message to the right audience at the right time through the right medium.
For more information, visit http://www.newswire.com.
Contact Information:
Charlie Terenzio
CMO and SVP of Media and Marketing Communications
Newswire
Office: 813-480-3766
Email: charlie@newswire.com
Source: Newswire
Share: