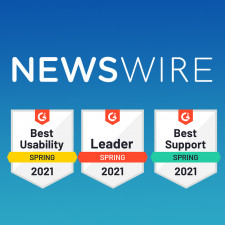 Newswire stands out as a leader thanks to its market presence and high customer satisfaction rate.
NEW YORK, May 17, 2021 (Newswire.com) - Small businesses looking to get more done with less resources often turn to online tools to help streamline their processes. With so many competitors and options, how do small businesses know which is the best press release distribution partner for them? G2.com, the leading provider of business software and services reviews, ranks Newswire number one in their Small Business Grid Report for Press Release Distribution for the Spring of 2021.
According to data from the G2.com report:
92% of users rate Newswire either 4 or 5 stars.
81% of users believe Newswire is headed in the right direction.
88% of users would be likely to recommend Newswire.
"We're humbled by the positive feedback we've received from our clients," said Charlie Terenzio, CMO and SVP of Media and Marketing Communications at Newswire. "Business needs change every day, and it's important for us to be in tune with what our customers are looking for. We're excited to unveil what's in store for our customers, our partners, and our organization."
Thirteen providers qualified to be ranked in the Spring 2021 category. Out of the 206 reviews, Newswire earned the highest overall satisfaction score of 96, third-highest Market Presence score of 76, and the top overall G2 Score of 86.
Providers and services included in G2.com's Small-Business Grid for Press Release Distribution must have received a minimum of 10 reviews or ratings prior to March 2, 2021. Products are ranked according to customer satisfaction versus Market Presence. G2 determines its Market Presence score through several criteria including the number of employees, review count, web presence, social presence, and seller age.
"Customer satisfaction is a driving force of our efforts, and our team of media and marketing experts remain committed to helping our clients deliver the right message to the right audience at the right time," Terenzio added. 
Visit Newswire.com today and learn more about how its integrated press release distribution solutions are helping organizations grow their audience, expand their reach, and implement an effective go-to-market strategy.
About Newswire
Newswire delivers press releases and multimedia distribution software and services (SaaS) that empower the Earned Media Advantage: greater brand awareness, increased traffic, greater return on media and marketing communications spend, and the competitive edge. With over a decade of experience, Newswire continues to provide its customers with the ability to deliver the right message to the right audience at the right time through the right medium.
To learn more, visit http://www.newswire.com.
Contact Information
Charlie Terenzio
Newswire | CMO and SVP of Media and Marketing Communications 
Office: 813-480-3766
Email: charlie@newswire.com
Source: Newswire
Share: