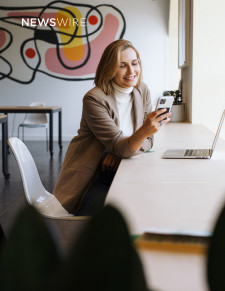 Newswire recently published "Using Press Releases as a Marketing Vehicle," its latest Smart Start guide that explains why press releases should be included in a company's marketing strategy.
NEW YORK, April 6, 2021 (Newswire.com) - Newswire is a name that companies can trust, as it continues to provide thousands of customers worldwide, in a multitude of industries, with press release distribution services to deliver the right message to the right audience at the right time.
In fact, Newswire has earned the number one ranking for Customer Satisfaction from G2 Crowd, the leading B2B software and services platform that helps businesses discover the right solutions to real-world business problems.
Through its industry-leading solutions, Newswire empowers the Earned Media Advantage by acting as an extension of its clients' teams to not only identify strategic earned media opportunities but create compelling, newsworthy stories, launch targeted campaigns, and provide reports on overall performance. 
Tapping into its nearly 15 years of experience and the expertise of its team, Newswire is sharing tactical advice and information on how to implement press releases, a cost-effective medium, into a company's overall marketing strategy in its latest Smart Start guide. 
"Press releases are an important piece to the overall media and marketing puzzle," said Charlie Terenzio, CMO and SVP of Media and Marketing Communications at Newswire. "Our comprehensive press releases distribution service makes it easy and affordable for our clients to share newsworthy and impactful stories with their target audience on a consistent basis."
This brand-new Smart Start covers a number of topics including:
The affordability and ease of press release distribution 
How to use data and metrics to an organization's advantage
Why tracking everything will help develop more impactful content
And more   
"Companies, no matter the industry, can make waves by applying traditional press release distribution in new and unexpected ways, and our team is helping our clients do just that," noted Terenzio. 
Download the Using Press Releases as a Marketing Vehicle Smart Start guide.
About Newswire
Newswire delivers press release and multimedia distribution software and services (SaaS) that empower the Earned Media Advantage: greater brand awareness, increased traffic, greater return on media and marketing communications spend, and the competitive edge. With over a decade of experience, Newswire continues to provide its customers with the ability to deliver the right message to the right audience at the right time through the right medium.
For more information, visit http://www.newswire.com.
Contact Information
Charlie Terenzio
Newswire | CMO and SVP of Media and Marketing Communications
Office: 813-480-3766
Email: charlie@newswire.com
Source: Newswire
Share: