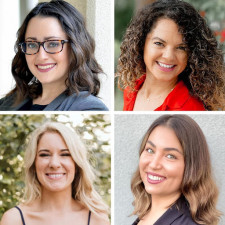 Newswire's commitment to customer success begins with its people who apply their knowledge and expertise to help small and midsize companies turn their owned media into earned media.
NEW YORK, July 22, 2021 (Newswire.com) - As a company that places an emphasis on growth - with the market, its clients, and internally - Newswire, an industry leader in press release distribution, is pleased to announce the promotion of four team members.
The announcement comes as Newswire continues to expand its services and maintain the no. 1 rank in customer satisfaction for its press release distribution services for four years and counting.
"Our employees go above and beyond to provide our clients with the support and value they need to succeed," said Charlie Terenzio, CMO and SVP of Media and Marketing Communications at Newswire. "We believe in rewarding and promoting internally to give our employees opportunities to advance their careers and grow as professionals."
Olivia Savage has been promoted to Director of Product Marketing, where she'll focus on aligning and developing the company's marketing initiatives to clearly and effectively communicate its message to its target audience of small and midsize companies.
"Since Olivia joined Newswire, her attention to detail, commitment to going the extra mile to deliver the best results, and her willingness to roll up her sleeves and get to work with her peers are among the many reasons we've elevated her role and responsibilities within the organization," said Terenzio.
Tiffany Kayar, Morgan McAbee, and Alexis Quintal have been promoted to Directors of Media and Marketing and will oversee their teams of Media and Marketing experts to ensure customer satisfaction, produce exceptional value, and accelerate business growth for their clients and Newswire alike.
"The work and results that Tiffany, Morgan, and Alexis have generated in their time at Newswire so far is something to be acknowledged and celebrated," Terenzio noted. "Their ability to think creatively, encourage collaboration, and meet and exceed their clients' expectations are skill sets that will continue to bring value and growth to the organization."
For nearly 20 years and counting, Newswire has been helping small and midsize companies in a variety of industries distribute the right message to the right audience at the right time.
Visit Newswire.com today and learn more about how Newswire's integrated solutions are helping organizations grow their audience, expand their reach, and implement an effective go-to-market strategy.
About Newswire
Newswire delivers press releases and multimedia distribution software and services (SaaS) that empower the Earned Media Advantage: greater brand awareness, increased traffic, greater return on media and marketing communications spend, and the competitive edge. With over a decade of experience, Newswire continues to provide its customers with the ability to deliver the right message to the right audience at the right time through the right medium.
For more information, visit http://www.newswire.com.
Contact Information:
Charlie Terenzio
CMO and SVP of Media and Marketing Communications 
Newswire
Office: 813-480-3766
Email: charlie@newswire.com
Source: Newswire
Share: