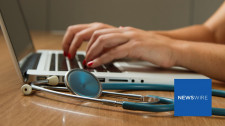 Newswire's client in the health insurance industry was recently featured in two online articles thanks to Newswire's team of media and marketing experts.
NEW YORK, August 2, 2021 (Newswire.com) - Newswire's Media and Marketing Guided Tour client in the health insurance industry was recently featured in two online articles. 
These earned media opportunities came as a result of Newswire's collaborative relationship with the company that makes understanding and buying health insurance easy.
The company's success is rooted in its people, and this was the focus of its earned media mention in an online community publication that highlights local startups and tech companies. The article detailed the health insurance company's decision to double its workforce in order to scale the company. 
Additionally, the company's co-founder and CEO co-authored an article that discussed how to use HRAs to improve healthcare offerings. This opportunity comes at an especially pivotal time as employers are looking to find ways to provide employees with flexible health insurance options. 
"These earned media opportunities are an important piece of the company's overall marketing puzzle as they continue to grow their business and simplify healthcare for consumers," said  Charlie Terenzio, CMO and SVP of Media and Marketing Communications at Newswire. "Helping people save money is at the company's core, and our team at Newswire will continue to help tell their story so their customers can avoid overpaying for their health insurance coverage."
With a goal to become the leading AI-powered national health insurance marketplace, Newswire will continue to help its client build brand awareness, improve SEO, boost website traffic, as well as create and nurture valuable relationships with industry publications to garner relevant earned media mentions. 
Guided Tour clients are able to lean on Newswire's media and marketing experts to identify media opportunities, craft compelling stories, launch targeted campaigns, and provide reports on overall performance.
To learn more about how Newswire's integrated solutions are helping companies grow their audience, expand their reach, and implement an effective go-to-market strategy, visit Newswire.com today.
About Newswire
Newswire delivers press releases and multimedia distribution software and services (SaaS) that empower the Earned Media Advantage: greater brand awareness, increased traffic, greater return on media and marketing communications spend, and the competitive edge. With over a decade of experience, Newswire continues to provide its customers with the ability to deliver the right message to the right audience at the right time through the right medium.
For more information, visit http://www.newswire.com.
Contact Information
Charlie Terenzio
CMO and SVP of Media and Marketing Communications 
Newswire
Office: 813-480-3766
Email: charlie@newswire.com
Source: Newswire
Share: