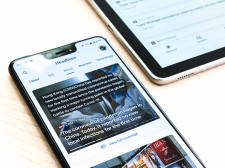 NEW YORK, March 12, 2021 (Newswire.com) - On March 11, 2020, the World Health Organization (WHO) declared COVID-19 a global pandemic, and since that day, it's been a topic of discussion on every social media channel and news platform. 
As more people turn to different channels to get their news, the need to stand out has become increasingly important, especially for businesses in the healthcare industry. 
In fact, according to a Pew Research Center survey, when asked which platform participants preferred to get their news from, 52% of Americans said they prefer a digital platform, whether it's a news website, search, social media, or podcasts, while a third said they prefer television and 7% and 5% of participants respectively said they prefer getting their news from the radio or print. 
No matter the communication channel, an influx of information paired with a surge in news consumption has made it harder than ever for healthcare companies to break through the news cycle and capture the attention of their target audience. 
However, as we embark on year two of the COVID-19 pandemic, Newswire Guided Tour clients, in particular, have reaped the benefits of implementing a sound media and marketing communication strategy. 
Through this approach and thanks to Newswire's team of expert public relations professionals, the creation and distribution of attention-grabbing stories have become a streamlined process.
"Newswire acts as an extension of our clients' teams to identify media opportunities, create compelling stories, launch targeted campaigns, and provide reports on overall performance," said Charlie Terenzio, CMO and SVP of Media and Marketing Communications. 
Over the past year, Newswire has helped clients like GB Sciences, NorthShore Care Supply, and ZetrOz Systems, all of which are in the healthcare industry earn over 15 earned media mentions and counting in publications such as Trend Hunter, Medical Device News Magazine, WFLA News, and more.
"By leaning on our experience and creativity, we're helping our clients in the healthcare industry break through the noise and get in front of their target audiences," Terenzio noted.
To learn more about how Newswire's integrated solutions are helping healthcare companies break through crowded news cycles, grow their audience, expand their reach, and implement an effective go-to-market strategy, visit Newswire.com today.
About Newswire
Newswire delivers press release and multimedia distribution software and services (SaaS) that empower the Earned Media Advantage: greater brand awareness, increased traffic, greater return on media and marketing communications spend, and the competitive edge. With over a decade of experience, Newswire continues to provide its customers with the ability to deliver the right message to the right audience at the right time through the right medium.
For more information, visit http://www.newswire.com.
Contact Information
Charlie Terenzio
Newswire | CMO and SVP of Media and Marketing Communications 
Office: 813-480-3766
Email: charlie@newswire.com
Source: Newswire
Share: