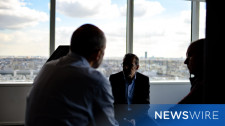 Earned media mentions can help companies of all sizes and industries stay in front of their target audience and build brand awareness.
NEW YORK, August 25, 2021 (Newswire.com) - For nearly 20 years and counting, thousands of customers worldwide have partnered with Newswire, an industry leader in press release distribution services, to identify media opportunities, create compelling stories, launch targeted campaigns, improve search engine optimization (SEO) performance, and more. 
As part of Newswire's Media and Marketing Guided Tour program, its client in the software and hardware development space recently earned a feature in a popular industry publication that provides up-to-date information about the latest in radio frequency identification (RFID).
This particular publication attracts nearly 30,000 views a month and in this article, Newswire's client was able to share information about its latest business deal in a detailed manner. 
"This earned media opportunity was a direct result of a press release we distributed on the wire," said Charlie Terenzio, CMO and SVP of Media and Marketing Communications at Newswire. "Our strategic approach to distribution allowed us to pinpoint and connect with relevant media publications which led to this feature."
With the goal of helping its client become the expert that industry leaders turn to for inventory management solutions, Newswire continues to leverage the experience of its Media and Marketing team and its robust SaaS technology, which includes a Media Database, Media Watch, Press Release Distribution, custom Media Room, Analytics, and more to distribute the right message to the right audience at the right time. 
"Our commitment to empower the Earned Media Advantage for our clients is stronger than ever, and this article is an example of that," added Terenzio. 
To learn more about how Newswire's integrated solutions are helping other small to midsize companies grow their audience, expand their reach, and implement an effective go-to-market strategy, visit Newswire.com today.
About Newswire
Newswire delivers press releases and multimedia distribution software and services (SaaS) that empower the Earned Media Advantage: greater brand awareness, increased traffic, greater return on media and marketing communications spend, and the competitive edge. With over a decade of experience, Newswire continues to provide its customers with the ability to deliver the right message to the right audience at the right time through the right medium.
For more information, visit http://www.newswire.com.
Contact Information:
Charlie Terenzio
CMO and SVP of Media and Marketing Communications 
Newswire
Office: 813-480-3766
Email: charlie@newswire.com
Source: Newswire
Share: