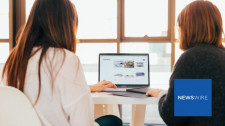 Newswire labeled a hot target for acquisition in 2021 after a recent Business Insider article.
NEW YORK, January 14, 2021 (Newswire.com) - Newswire, longtime provider and leader in press release distribution services and creator of the Earned Media Advantage Guided Tour, announces its recent recognition in Business Insider after achieving a 59% increase in revenue in 2020. The article features prime acquisition targets for 2021 and notes that a number of industry insiders have acknowledged Newswire's ability to innovate, differentiate, and still disrupt the industry after 17 years in business.
"We're humbled and proud to earn recognition alongside some of the most dynamic names in PR," says Erik Rohrmann, COO at Newswire. "Early on, we made a commitment to both customer success and improving our own technology, and the market has responded in kind. We look forward to what's in store for 2021 and beyond."
Experts predict larger PR firms, looking to quickly gain a foothold in more specialized areas of communications, will ramp up mergers and acquisitions in 2021; according to Chris Porter, an associate at Burton-Taylor Consulting, "After the pandemic had a cooling effect on M&A in PR software in 2020, deals are likely to pick up in 2021." Healthcare communications, among one of Newswire's prime areas of expertise, has attracted the interest of larger PR firms eyeing more consistent areas of growth. 
"We are honored for Newswire to be included on this list of standout companies in the public relations industry and so proud of the success that we have experienced since launching the Earned Media Advantage Guided Tour program," says Charlie Terenzio, VP of Earned Media Advantage Business at Newswire.
Monitoring trends in both SaaS and the PR industry led Newswire to seize its opportunity for growth in a volatile industry, capitalizing on the demand for an integrated solution. The result was the founding of Earned Media Advantage Guided Tour program in 2019, designed to help clients implement a sophisticated and integrated media and marketing strategy by leveraging its expertise and seasoned history in press release distribution.
Learn more about how Newswire leverages its best-in-class science, process, and technology to help customers distribute the right message, to the right audience, at the right time by visiting Newswire.com.
About Newswire
Newswire delivers press release and multimedia distribution software and services (SaaS) that empower the Earned Media Advantage: greater brand awareness, increased traffic, greater return on media and marketing communications spend and the competitive edge. With over a decade of experience, Newswire continues to provide its customers with the ability to deliver the right message to the right audience at the right time through the right medium.
To learn more about how Newswire can help you, visit http://www.newswire.com.
Contact Information
Charlie Terenzio
VP of Earned Media Advantage Business 
Newswire
Office: 813-480-3766
Email: charlie@newswire.com
Source: Newswire.com
Share: