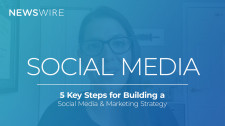 In the third installment of its Smart Start video series, Newswire focuses on social media and how it can help build brand awareness and connect businesses with their target audiences.
NEW YORK, April 15, 2021 (Newswire.com) - Newswire, an innovative press release distribution company, has recently launched the third installment of its Smart Start educational video series.
The topic of conversation in this video is social media and viewers will learn about the value of social listening, choosing the right platforms for their business, how to create a social media strategy, and much more.
As social media's popularity continues to grow, businesses can capitalize and bridge the gap between their brand and target audience.
In fact, according to Statista, globally, over 3.6 billion people use social media and that number is projected to increase to 4.41 billion in 2025.
"As consumer attention continues to narrow in on social media, businesses, no matter their size or industry, have a unique opportunity to connect directly with their target audience and share their story," said Charlie Terenzio, CMO and SVP of Media and Marketing Communications at Newswire. "In this video, we're digging into the basics of social media and share tips that businesses can apply immediately to give their social media efforts a boost in the right direction."
In the latest episode of the Smart Start video series, subject matter experts cover a number of topics including:
The importance of social media for business
How to create a social media marketing strategy
Why social media engagement is just as important as content creation
And more
"Social media, consistent press release distribution, content marketing, and more, all work together to help a company build brand awareness, improve SEO, and position themselves as a thought leader in their respective industry," Terenzio noted. 
Clients that are part of Newswire's Earned Media Advantage Guided Tour Program have access to the company's public relations experts who help identify media opportunities, create compelling stories, launch targeted campaigns, maximize their exposure on social media, and provide reports on overall performance.
Watch the third episode of Newswire's Smart Start video series, 5 Key Steps in Building a Social Media & Marketing Strategy, to learn how to leverage the benefits of social media for your business. 
About Newswire
Newswire delivers press release and multimedia distribution software and services (SaaS) that empower the Earned Media Advantage: greater brand awareness, increased traffic, greater return on media and marketing communications spend, and the competitive edge. With over a decade of experience, Newswire continues to provide its customers with the ability to deliver the right message to the right audience at the right time through the right medium.
For more information, visit http://www.newswire.com.
Contact Information
Charlie Terenzio
Newswire | CMO and SVP of Media and Marketing Communications 
Office: 813-480-3766
Email: charlie@newswire.com
Source: Newswire
Share: