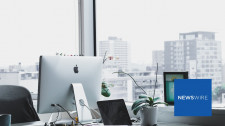 NEW YORK, January 19, 2021 (Newswire.com) - Newswire, longtime provider and leader in press release distribution services and creator of the Earned Media Advantage Guided Tour, is redoubling its efforts towards providing an all-in-one media and marketing solution for clients. The success of the Guided Tour program has attracted the attention of a number of organizations within Newswire's target markets, namely healthcare, e-commerce, health and wellness, technology, and business services.  
"By focusing our efforts on specific markets, we're able to add in an extra degree of specialization and expertise, which really helps us to create additional, more unique areas of opportunity to help earn some recognition for brands," says Charlie Terenzio, Newswire's VP of Earned Media Advantage Business. "We're optimistic about what the year has in store for the organization and for our clients."
The launch of the Earned Media Advantage Guided Tour made it official in August of 2019, which caught the attention of many organizations — some existing clients and some potential ones — who had expressed interest in the kind of managed media and marketing services that the Guided Tour provided. The sudden demand did not go unnoticed; a recent Business Insider article named Newswire among its top PR firms "ripe for acquisition" in 2021.
Founded in 2004, Newswire has differentiated itself as a leader in press release distribution by providing unprecedented value while maintaining its commitment to customer satisfaction. Working directly with clients, providing both consulting services as well as hands-on help in the discovery and acquisition of earned media opportunities, has provided the foundational experience that has earned Newswire's renown for its ability to achieve significant growth despite the dynamic and competitive nature of the industry. 
Learn more about how Newswire leverages its best-in-class science, process, and technology to help customers distribute the right message, to the right audience, at the right time by visiting Newswire.com.
About Newswire
Newswire delivers press release and multimedia distribution software and services (SaaS) that empower the Earned Media Advantage: greater brand awareness, increased traffic, greater return on media and marketing communications spend and the competitive edge. With over a decade of experience, Newswire continues to provide its customers with the ability to deliver the right message to the right audience at the right time through the right medium.
To learn more about how Newswire can help you, visit http://www.newswire.com.
Contact Information
Charlie Terenzio
VP of Earned Media Advantage Business 
Newswire
Office: 813-480-3766
Email: charlie@newswire.com
Source: Newswire.com
Share: