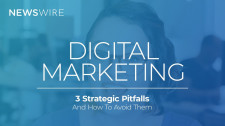 Companies that develop and leverage a digital marketing strategy can effectively build brand awareness, attract new website visitors, improve SEO performance, and generate leads
NEW YORK, August 26, 2021 (Newswire.com) - Newswire, an industry leader in press release distribution services, recently published its Digital Marketing Smart Start video.
Digital marketing includes all marketing efforts carried out through digital/online means to connect companies with current and prospective customers. Examples of digital marketing include content marketing, email marketing, search engine optimization (SEO), social media marketing, pay-per-click (PPC), and more. 
"Understanding the what, why, and how of digital marketing can help companies maximize their online presence to better connect with their target audience and relevant media publications," said Charlie Terenzio, CMO and SVP of Media and Marketing Communications at Newswire. 
Whether people are keeping tabs on the latest news by checking social media, conducting searches or making purchases, consumers around the world are spending considerable amounts of time online. In fact, it's reported that 4.6 billion people around the world use the internet. 
For these reasons, among many, businesses should place an emphasis on developing and implementing a comprehensive digital marketing strategy. 
In this Smart Start video, that's part of an ongoing educational series, Newswire covers a number of topics including: 
The importance of digital marketing
How to create a digital marketing strategy
Common digital marketing mistakes and tips to avoid them
"This Smart Start video is a valuable resource that provides actionable tips businesses of any size and industry can use immediately," Terenzio noted. 
Watch the Digital Marketing Smart Start video to learn more. 
About Newswire
Newswire delivers press releases and multimedia distribution software and services (SaaS) that empower the Earned Media Advantage: greater brand awareness, increased traffic, greater return on media and marketing communications spend, and the competitive edge. With over a decade of experience, Newswire continues to provide its customers with the ability to deliver the right message to the right audience at the right time through the right medium.
For more information, visit http://www.newswire.com.
Contact Information
Charlie Terenzio
CMO and SVP of Media and Marketing Communications 
Newswire
Office: 813-480-3766
Email: charlie@newswire.com
Source: Newswire
Share: