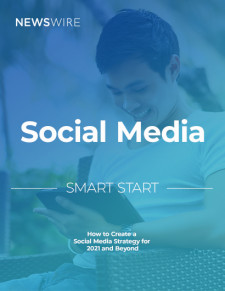 NEW YORK, April 27, 2021 (Newswire.com) - Social media has created an opportunity for companies to meet their target audience where they are to share their message and build brand awareness. That's why Newswire is sharing tips and advice on how to create a social media strategy for 2021 and beyond in its latest Smart Start guide.
According to GlobalWebIndex, 54% of social browsers use social media to research products.
It's for this reason, among many, that companies, no matter the size or industry, should place an emphasis on the positive impact social media could have on their business now and in the future.
"Social media is no longer an option, it's a necessity," said Charlie Terenzio, CMO and SVP of Media and Marketing Communications at Newswire. "In addition to our press release distribution services, we offer advisory services such as social media audits to help our clients create and maintain cohesion across their marketing touchpoints."
As a company that provides industry-leading press release distribution services that are trusted by thousands of customers worldwide, Newswire is sharing insights on how to capitalize on the opportunities social media has created for businesses in its Social Media Smart Start guide.
This educational resource covers a number of topics including but not limited to:
The importance of social media for business
How to create a social media marketing strategy
Why social media engagement is just as important as content creation
And more
"The benefits of building and maintaining a presence on social media are plentiful, and we're sharing tactical and easy-to-implement tips and solutions businesses everywhere can use to kickstart their efforts," Terenzio noted.
Download the Social Media Smart Start guide.
About Newswire
Newswire delivers press release and multimedia distribution software and services (SaaS) that empower the Earned Media Advantage: greater brand awareness, increased traffic, greater return on media and marketing communications spend, and the competitive edge. With over a decade of experience, Newswire continues to provide its customers with the ability to deliver the right message to the right audience at the right time through the right medium.
For more information, visit http://www.newswire.com.
Contact Information
Charlie Terenzio
Newswire | CMO and SVP of Media and Marketing Communications
Office: 813-480-3766
Email: charlie@newswire.com
Source: Newswire
Share: