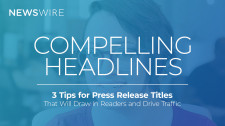 NEW YORK, April 23, 2021 (Newswire.com) - With nearly 15 years of experience, Newswire, an award-winning company that provides clients in a variety of industries with press release distribution services, is sharing some of its best advice and expertise in its brand-new Smart Start video series. 
In the latest video installment, Newswire is highlighting the importance of writing compelling headlines and covers a number of topics, including but not limited to: 
The importance of headlines
Headline writing strategies
The components of an SEO-friendly headline
And more
It's reported the average internet user will read 80% of headlines. This statistic alone points to the power of a headline and how it can seemingly make or break the performance of a piece of content. 
"Think of a headline as a first impression," said Charlie Terenzio, CMO and SVP of Media and Marketing Communications at Newswire. "If a reader's intrigued by a headline, they'll click to learn more. If the headline falls flat, they'll keep scrolling."
Clients that are part of Newswire's Earned Media Advantage Guided Tour program have access to the company's public relations experts who deploy sound search engine optimization (SEO) strategies to identify relevant and valuable content topics and also create headlines that improve the likelihood of their target audience stopping their scroll to click on their content. 
In addition to these important pieces of a well-rounded content marketing strategy, Newswire also works with its Guided Tour clients to launch targeted press release campaigns, maximize their exposure to build brand awareness, and much more. 
"Knowledge is power, and we're excited to share our best headline writing tips with business professionals to give their content its best chance at reaching their target audience," noted Terenzio. 
Watch the fourth episode of Newswire's Smart Start video series, GET MORE CLICKS: 3 Tips For Writing Compelling Press Release Headlines, to learn how to write compelling headlines for your content.
About Newswire
Newswire delivers press release and multimedia distribution software and services (SaaS) that empower the Earned Media Advantage: greater brand awareness, increased traffic, greater return on media and marketing communications spend, and the competitive edge. With over a decade of experience, Newswire continues to provide its customers with the ability to deliver the right message to the right audience at the right time through the right medium.
For more information, visit http://www.newswire.com.
Contact Information
Charlie Terenzio
Newswire | CMO and SVP of Media and Marketing Communications 
Office: 813-480-3766
Email: charlie@newswire.com
Source: Newswire
Share: