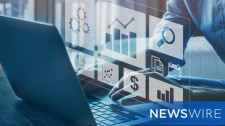 In its latest Smart Start guide, Newswire shares practical tips for companies to effectively manage and nurture leads without the support of a sales team.
NEW YORK, May 25, 2022 (Newswire.com) - Lead generation is the process of identifying, attracting and developing relationships with consumers to potentially convert them into customers.
As an industry leader in press release distribution services, Newswire understands how crucial lead generation is for companies to improve their top and bottom lines, and more importantly, position themselves for long-term success.
Newswire continues to build a library of educational resources professionals of all backgrounds and skill levels can turn to for tactical advice and valuable information. In its latest installation, the technology company covers the topic of lead generation.
"Leads are the lifeblood of any business and we understand some companies simply don't have the support of a dedicated sales team to attract and then manage leads," said Charlie Terenzio, CMO and SVP of Media and Marketing Communications at Newswire. "That's why we've put together five easy-to-implement tips brands can use to keep their leads organized and trending toward their ultimate goal of creating satisfied customers."
In its latest Smart Start, Newswire covers:
The difference between targets, prospects and leads
Why lead generation is important
How to follow up with leads without a sales department
Download the No Sales Team, No Problem: 5 Ways to Follow Up with Leads Smart Start.
About Newswire
Newswire is a technology company that provides press release distribution, media database and media monitoring technology that powers the media advantage: greater brand awareness, online visibility, SEO recognition, site traffic and increased sales by providing self-serve or full-service technology that automates press release distribution, media outreach, and monitoring that drives SEO recognition leading to more sales. Through its disruptive technology platform, relentless commitment to customer satisfaction, and passion for customer performance, Newswire is automating media and marketing communications for large and small businesses all over the world.
To learn more about press release distribution or the Media Advantage Plan, visit Newswire.com or check out why our customers have named us #1 for Customer Satisfaction in our industry for four years in a row.
Contact Information:
Charlie Terenzio
CMO and SVP of Media and Marketing Communications
Newswire
Office: 813-480-3766
Email: charlie@newswire.com
Source: Newswire
Share: