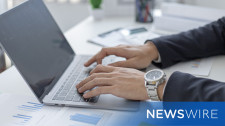 Newswire shares how press release distribution can help companies of all sizes and industries maximize their return on investment by turning their owned media into earned media.
NEW YORK, July 26, 2022 (Newswire.com) - For marketing executives, every dollar in their budgets needs to be put to good use in order to build brand awareness, attract website traffic, meet and exceed marketing goals and much more.
To that point, a tangible return on investment (ROI) is needed to justify continued spend and budgetary increases.
That's why every decision is weighed against the potential value it can provide the company. For marketing executives in this position, an initiative that's long been overlooked is the power of press release distribution.
"For small businesses, especially, every dollar is accounted for to ensure it's being used in a way that moves the needle and improves top and bottom-line performance," said Kyle Metcalf, President and Chief Revenue Officer at Newswire. "Strategic press release distribution is an excellent way to extend the spend of a marketing budget to maximize results, create true value and generate an impressive ROI for companies of all sizes and industries."
Newswire, an industry leader in press release distribution services, created its Media Advantage Plan (MAP) to help small and midsize businesses make the most of their budgets and generate the results leadership wants to see.
"The MAP is an ideal solution for companies who struggle to juggle the important marketing tasks needed to move their company in the right direction," added Metcalf.
That's because Newswire's MAP strategically blends its robust SaaS platform, its enriched press distribution network and the expertise of its team to help companies secure hundreds of earned media mentions in relevant industry publications.
In fact, CyberLandr, a software and artificial intelligence (AI) company, has experienced the power of the MAP firsthand by securing countless earned media opportunities that resulted in $80 million in pre-sales and even caught the attention of Elon Musk.
That's because Newswire's experts act as an extension of its clients' teams to create and implement an integrated media and marketing communications strategy to better tell the company's story through press releases and generate the positive outcomes that move the needle for small businesses.
Visit Newswire.com today to learn more about how its integrated solutions and attention to website optimization and SEO are helping companies grow their audience, expand their reach, and implement an effective go-to-market strategy.
About Newswire
Newswire is a technology company that delivers press release distribution and press release campaigns by leveraging earned media outreach, SEO traffic and email marketing through campaign automation to help businesses land impactful media coverage, drive website traffic, generate leads and grow brand awareness. Through its industry-leading technology and its commitment to customer satisfaction, Newswire provides true value for businesses at a fraction of the cost of other solutions.
To learn more about press release distribution or the Media Advantage Plan, visit Newswire.com or check out why our customers have named us #1 for Customer Satisfaction in our industry for four years in a row.
Contact Information:
Charlie Terenzio
CMO and SVP of Media and Marketing Communications
Newswire
Office: 813-480-3766
Email: charlie@newswire.com
Source: Newswire
Share: