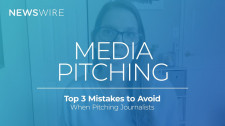 NEW YORK, March 30, 2022 (Newswire.com) - It's reported that 57% of journalists receive 50-500 pitches per week. With an influx of messages landing in the inboxes of reporters, brands need to hone their craft and create compelling media pitches that break through the clutter.
As an industry leader in press release distribution services, Newswire knows from experience how valuable well-crafted media pitches can be in helping brands earn media mentions.
In fact, media pitching is included in its Media Advantage Plan (MAP) along with its Targeted Pitch Campaigns product to help companies of all sizes and industries maximize the exposure of their press releases.
"Every media pitch, when executed correctly, provides brands with opportunities to set themselves apart from their competition and stand out to their target audience," said Charlie Terenzio, CMO and SVP of Media and Marketing Communications at Newswire.
To highlight the value of media pitching, Newswire published a brand-new Smart Start video on its YouTube channel that delves into the topic.
In this video, Newswire covers the following:
What is a media pitch?
How to craft a media pitch.
Media pitching mistakes to avoid.
"Our latest Smart Start video provides actionable steps brands can take to improve their media pitches and better their chances of earning media attention," Terenzio added.
Watch the Media Pitching Smart Start video to learn more.
About Newswire
Newswire delivers press releases and multimedia distribution software and services (SaaS) that empower the Earned Media Advantage: greater brand awareness, increased traffic, greater return on media and marketing communications spend, and the competitive edge. With over a decade of experience, Newswire continues to provide its customers with the ability to deliver the right message to the right audience at the right time through the right medium.
For more information, visit http://www.newswire.com.
Contact Information:
Charlie Terenzio
CMO and SVP of Media and Marketing Communications
Newswire
Office: 813-480-3766
Email: charlie@newswire.com
Source: Newswire
Share: