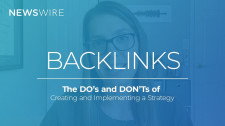 For businesses of any size and industry, devising and implementing a backlinks strategy can prove to be beneficial in improving their search engine optimization (SEO) performance.
NEW YORK, July 28, 2021 (Newswire.com) - In addition to its award-winning press release distribution services, Newswire places an emphasis on education to help small and midsize companies make the most of their media and marketing efforts. 
That commitment to the customer is on display with its Smart Start video series that's meant to help viewers take its tactical advice and put it into motion for their business. 
Newswire recently released a brand-new Smart Start video that focuses on backlinks, which are links that are created when one website links to another. 
Backlinks are seen as a "vote of confidence" and signal to search engines a website is worth linking to because of the value it provides. 
"Building backlinks takes patience, skill, and expertise," said Charlie Terenzio, CMO and SVP of Media and Marketing Communications at Newswire. "We've seen from our experience just how important backlinks are in generating awareness and authority and that's why our team of experts work closely with our clients to create quality content other sites want to link back to."
In its latest Smart Start video, Newswire addresses a number of topics including:
The characteristics of a quality backlink.
The difference between white hat SEO and black hat SEO.
The do's and don'ts of building backlinks.
And more.
"This video in particular covers the basics and will help companies of all sizes and industries build better backlinks for their business," Terenzio added. 
Watch the Backlinks Smart Start video to learn more.
About Newswire
Newswire delivers press releases and multimedia distribution software and services (SaaS) that empower the Earned Media Advantage: greater brand awareness, increased traffic, greater return on media and marketing communications spend, and the competitive edge. With over a decade of experience, Newswire continues to provide its customers with the ability to deliver the right message to the right audience at the right time through the right medium.
For more information, visit http://www.newswire.com.
Contact Information
Charlie Terenzio
CMO and SVP of Media and Marketing Communications 
Newswire
Office: 813-480-3766
Email: charlie@newswire.com
Source: Newswire.com
Share: