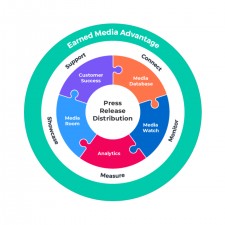 The program combines best-in-class technology with expert consulting services to provide customers with strategic campaigns designed to increase earned media opportunities for financial services firms.
NEW YORK, June 17, 2020 (Newswire.com) - The COVID-19 pandemic has resulted in a domino effect across multiple industries, including companies involved in the financial services space. While Newswire remains committed to helping companies delivering products and services directly to consumers, the team is also seeking to assist the financial services companies to get more media attention from financial publications like Forbes, Business Insider and the Wall Street Journal, to name a few. 
Companies in the retail, e-commerce, and food industries are adjusting to social distancing protocols and safety procedures put in place by federal and state governments, and financial service firms are playing a huge role in this adjustment period. While business owners are heavily invested in daily operations and strategic planning during this uncertain time period, many tasks such as payroll services, insurance policy management, and tax filing have been carried out by outsourced financial service groups. Because of the ongoing crisis, businesses of all sizes have turned to these firms to relieve them of their financial workloads; in particular, mobile financial applications have become increasingly prevalent. 
"Our success in getting coverage in financial-focused media outlets like Forbes, Business Insider and Wall Street Journal allow financial companies to expand the reach for their messaging for investors and the general public," said Erik Rohrmann, Senior Vice President and Chief Operating Officer at Newswire. 
"Some sub-industries have experienced success in the form of new clients and increased revenue, and this has given many firms the incentive to ramp up their media outreach campaigns. We are looking to be a guiding force for these companies to help them achieve their media, marketing, and communications goals at this time." 
InsurTech Express is a financial services firm specializing in life insurance and annuities. When company President Ken Leibow wanted to promote the launch of his brand, he turned to Newswire to get the job done. 
"The press release that we distributed on the wire got a lot of chatter," said Leibow. "It got a lot of good responses - great responses actually."
Newswire's Earned Media Advantage Guided Tour helps customers in the financial services industry deliver their company news and information to their desired target audiences. By transforming owned media into the Earned Media Advantage, companies can increase their brand awareness through comprehensive media, marketing, and communications campaigns. These campaigns can lead to expanded brand awareness, enhanced SEO rankings, and increases in overall sales. 
The Guided Tour has helped financial services firms communicate their company news while adjusting to the current market climate. With Earned Media Advantage Strategists at the helm, leveraging both personal expertise and Newswire's powerful technology, customers can learn how efficient distribution and outreach can help them deliver the right message, to the right audience, at the right time. 
Learn how Newswire is supporting financial services companies during this transitional period, and learn how you can navigate through the COVID-19 crisis with the Earned Media Advantage Guided Tour.
About Newswire​
Newswire delivers press release and multimedia distribution software and services (SaaS) that empower the Earned Media Advantage: greater brand awareness, increased traffic, greater return on media and marketing communications spend and the competitive edge. With over a decade of experience, Newswire continues to provide its customers with the ability to deliver the right message to the right audience at the right time through the right medium.​
To learn more how Newswire can help you, visit http://www.newswire.com.
Contact Information
Charlie Terenzio
VP of Earned Media Business
​Newswire
​Office: 813-480-3766
Email: charlie@newswire.com
Source: Newswire
Share: