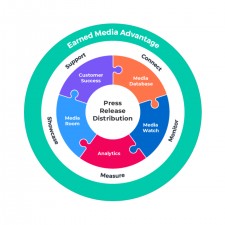 The Guided Tour program helps companies develop comprehensive media, marketing, and communications strategies for long-term success.
NEW YORK, June 19, 2020 (Newswire.com) - With financial services companies ramping up operations to further serve their clients, Newswire is working to develop customized marketing plans for Earned Media Advantage Guided Tour customers. Earned Media Advantage Strategists understand the importance of marketing during the ongoing crisis, and are constantly networking with members within the financial media space to help clients increase their overall brand awareness through earned media coverage and marketing programs aimed directly at their target audience resulting in a steady stream of leads on a weekly and monthly basis.
Financial service companies are currently serving clients in every major American industry, from food, to manufacturing, to retail, and beyond. Communication between employees and clients has proven to be more important now than ever before, and virtual collaborative efforts have seen a spike in demand as well. Newswire strategists have substantial experience with virtual collaboration, as they work as an extension of in-house media and marketing teams to enhance distribution and outreach efforts.
"Any long-term PR, marketing, and communications campaigns need to accurately represent company goals and culture," said Charlie Terenzio, Newswire's VP Earned Media Advantage Business. "Our strategists have been working virtually alongside in-house teams to make this possible, long before the COVID-19 crisis began."
Financial service companies anticipating major announcements, new product offerings, or reports indicating increased revenue can use Newswire to distribute their news to major industry outlets. With the help of a Newswire strategist, these stories can be segmented and sequenced over a 12-month period as a part of a comprehensive plan that is built to fit the needs of the individual company.
"No two clients are the same, so no two marketing plans should be the same either," said Anthony Santiago, Newswire's VP of Marketing. "The customerized approach allows companies to distribute their unique content in a way that makes sense for their schedules and teams."                                                                                  
The Guided Tour provides customers with a multitude of great benefits, such as increased brand awareness, web traffic, and SEO Rankings. The program places a strong emphasis on targeting key media outlets, and looks to provide customers with a competitive advantage in their respective industries. 
Financial service companies will be supporting businesses that are looking to adjust to the new economic reality, and Newswire will continue to support their media, marketing, and communications-related projects during this unprecedented time. 
Find out how Newswire is Transforming the Value of a Press Release and learn how to effectively navigate the COVID-19 crisis. 
About Newswire​
Newswire delivers press release and multimedia distribution software and services (SaaS) that empower the Earned Media Advantage: greater brand awareness, increased traffic, greater return on media and marketing communications spend and the competitive edge. With over a decade of experience, Newswire continues to provide its customers with the ability to deliver the right message to the right audience at the right time through the right medium.​
To learn more how Newswire can help you, visit http://www.newswire.com.
Contact Information
Charlie Terenzio
VP of Earned Media Advantage Business
Newswire
Office: 813-480-3766
Email: charlie@newswire.com
Source: Newswire
Share: