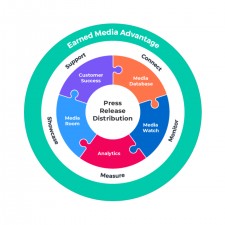 As the warmer summer months approach and entertainment firms are projected to see an uptick in customer demand, Newswire is preparing CMOs, agencies and marketing teams to launch powerful campaigns.
NEW YORK, July 1, 2020 (Newswire.com) - The COVID-19 crisis has kept Americans indoors for the majority of the past 4 months, and many families have adjusted to the closures of schools, offices, and local businesses by implementing remote workspaces and limiting their overall exposure to public gatherings. However, with summer approaching, and with social distancing protocols loosening around the country, many Americans are looking for entertainment destinations and event management services from companies that are prioritizing safety during this unprecedented time period.
Newswire is supplying CMOs and leaders in the entertainment and event management industries the answer to deliver targeted and effective media, marketing, and communications campaigns through its Earned Media Advantage Guided Tour. While entertainment destinations such as events, amusement parks, boardwalks, state fairs, and outdoor venues are slowly returning, the increased demand for these services can be felt as the sections of the country reopen. By effectively targeting media and customers, Newswire's EMA GT boasts campaign success that has landed GT customers media coverage in major media outlets like Bloomberg, NBC and CNBC.
"Companies in the entertainment and event management space are seeing a spike in consumer demand, and many are taking a very vigilant approach as they return to providing services," said Charlie Terenzio, Newswire's VP Earned Media Advantage Business. "They are trying to provide great experiences during the new normal, which is not an easy task by any means. It is crucial for these firms to communicate all of the steps they are taking to ensure consumer safety to their customers and target audience."
The Guided Tour includes multiple campaigns and programs that put CMOs and agency executives in the driver's seat as they distribute their content. With the help of an Earned Media Advantage Strategist, companies can develop messaging that emphasizes the social distancing policies, sanitation processes, and other safety protocols that they are putting in place to ensure the safety of their guests and clients.
"Entertainment companies need to give their customers evidence that they are prioritizing health and safety during this time. The demand for their services is there, but so is the cautious sentiment that has come about as a result of the ongoing crisis," said Anthony Santiago, Newswire's VP of Marketing.
The EMA GT provides companies with Newswire's best-in-class platform and the expertise of the Earned Media Advantage Strategists. By targeting key media outlets through strategic distribution and customized media pitching, The Guided Tour gives its customers a competitive advantage by positioning them as authority figures in their respective industries.
To achieve greater media engagement through 'customerized' messaging and consistent communication, learn more about how Newswire's Earned Media Advantage Guided Tour can help your brand.
About Newswire​
Newswire delivers press release and multimedia distribution software and services (SaaS) that empower the Earned Media Advantage: greater brand awareness, increased traffic, greater return on media and marketing communications spend and the competitive edge. With over a decade of experience, Newswire continues to provide its customers with the ability to deliver the right message to the right audience at the right time through the right medium.
To learn more about how Newswire can help you, visit http://www.newswire.com.
Contact Information
Charlie Terenzio
VP of Earned Media Advantage Business 
Newswire
Office: 813-480-3766
Email: charlie@newswire.com​
Source: Newswire
Share: