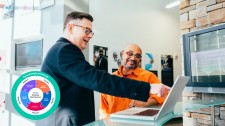 The EMA GT Sales Accelerator program drives awareness and has evolved into a crucial tool for top-of-funnel marketing success.
NEW YORK, September 3, 2020 (Newswire.com) - E-commerce sales funnels, social media shopping, and value-based experiences have all become major trends in the retail and e-commerce sector in just the last few months. As retail companies of all sizes look to maintain a relevant market presence at the beginning of the final quarter of the fiscal year, Newswire's Earned Media Advantage Guided Tour Sales Accelerator (EMA GT) provides a key opportunity in its ability to help businesses get ahead of industry trends and increase consumer engagement. 
Lead generation is in high demand in 2020, and competing services are charging expensive fees for qualified leads. With the cost of lead acquisition rising across the industry, retail brands can find a solution in Newswire's Sales Accelerator, as the diversified channels included in the program provide retailers with fresh leads from targeted sources.
Newswire's Earned Media Advantage Strategists provide ongoing support to help retail brands increase their total amount of qualified leads through strategic digital marketing campaigns. Newswire's strategists work closely with in-house teams to develop an authentic understanding for industry terminology and trends before launching pitch campaigns to targeted audiences. This, in turn, helps retail companies increase sales figures over time. 
"Increased leads are critical for retail leaders, especially in times like these. The EMA GT Sales Accelerator directly helps retail companies increase demand for product heading into the school year and holiday season. This can help increase sales opportunities for brands that have converted to e-commerce platforms or experimental store experiences during these unprecedented times," said Charlie Terenzio, Newswire's VP of Earned Media Advantage Business.
The EMA GT Sales Accelerator provides retail companies with the People, Plan, Platform, Production, and Performance to help develop and implement an effective media and marketing communications strategy. With the help of the EMAS team, retailers leverage the only media and marketing communications utility to drive web traffic, increase brand awareness, and convert more sales, ultimately reducing the company's overall customer acquisition costs.
"The value creation of the EMA GT Sales Accelerator program is remarkable," said Terenzio. "Customers reap the benefits of a unified message across their integrated media and marketing communications campaigns. They have full control over campaign direction, and ongoing support for assistance, distribution to major outlets and portals, as well as targeted outreach to specific outlets and media personnel. In more ways than one, the EMA GT Sales Accelerator helps businesses address their specific needs with a customer-ized approach."
The Newswire Earned Media Advantage Guided Tour Sales Accelerator offers progressive retail companies the opportunity to take a proactive approach to their campaign management.The combination of Newswire's best-in-class science, process, and technology can help retail CMOs and executives secure higher sales revenue by generating relevant and consistent buzz in industry media outlets.
To generate a buzz for your business and secure higher sales revenue, learn more about Newswire's Earned Media Advantage Guided Tour Sales Accelerator.
About Newswire​
Newswire delivers press release and multimedia distribution software and services (SaaS) that empower the Earned Media Advantage: greater brand awareness, increased traffic, greater return on media and marketing communications spend and the competitive edge. With over a decade of experience, Newswire continues to provide its customers with the ability to deliver the right message to the right audience at the right time through the right medium.​
To learn more about how Newswire can help you, visit http://www.newswire.com.
Contact Information
Charlie Terenzio
VP of Earned Media Advantage Business 
Newswire
Office: 813-480-3766
Email: charlie@newswire.com
Source: Newswire
Share: